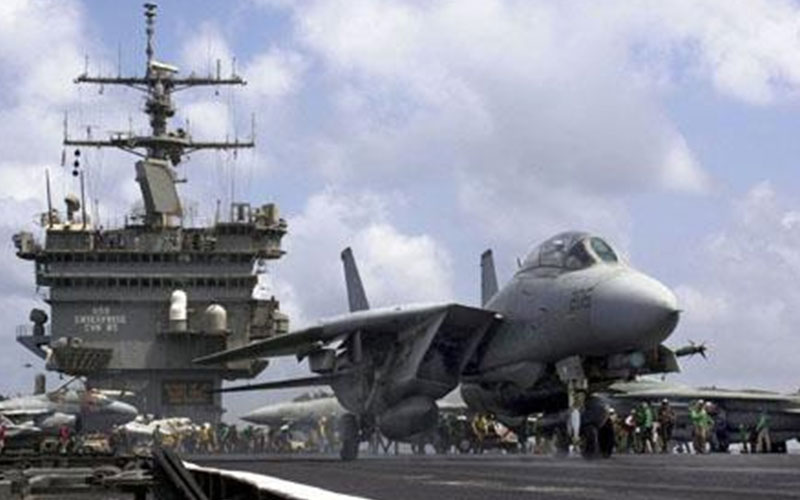 Jahr / Year:
2006

  |  Material:

Canvas
Applause ist die Kombination einer Schwarzweiß-Fotografie und Banksys bekannter Schablonentechnik. Mit Ironie vermittelt der Künstler hier eine politische Botschaft, indem ein unsichtbares Publikum von einem Fluglotsen aufgefordert wird, über den Anblick eines Militärflugzeugs zu lachen. Die Darstellung von Krieg als etwas Unterhaltsames, die so sehr in unserer Kultur verankert ist, betont die Absurdität dieser Arbeit und regt an, über Kriegsgeschehen der heutigen Zeit nachzudenken.
Als Vorlage benutzte Banksy ein bekanntes Foto des ehemaligen amerikanischen Präsidenten George W. Bush, auf dem ein Kampfjet auf der Startbahn eines riesigen Flugzeugträgers zu sehen ist. Eine Figur im Vordergrund hält ein Schild mit der Aufschrift "Applaus" nach oben, als wolle sie sagen: "Es wird von Ihnen erwartet, diesen Mann wie einen Helden zu feiern, auch wenn er dafür verantwortlich ist, dass sich Ihr Land im Krieg befindet!"
Applause is an intervention of a photograph using the stencil as the main technique. The political message behind this piece is played with irony, while bushland workers hold a sign for an invisible audience, encouraging them to laugh at the view of a military plane taking off from a military naval ship. The idea of war being something we should laugh about, something that is so internalized at our culture.
It makes this image absurd to question the true absurdity of our modern war and war affairs. Banksy used a well-known source image of former American President George W. Bush de-planning a military bomber. A figure in the foreground holds up a cue card with the word "APPLAUSE" emblazoned across it, as if to say, "You are expected to act like this man who sent your country to war is a hero, so act like it."