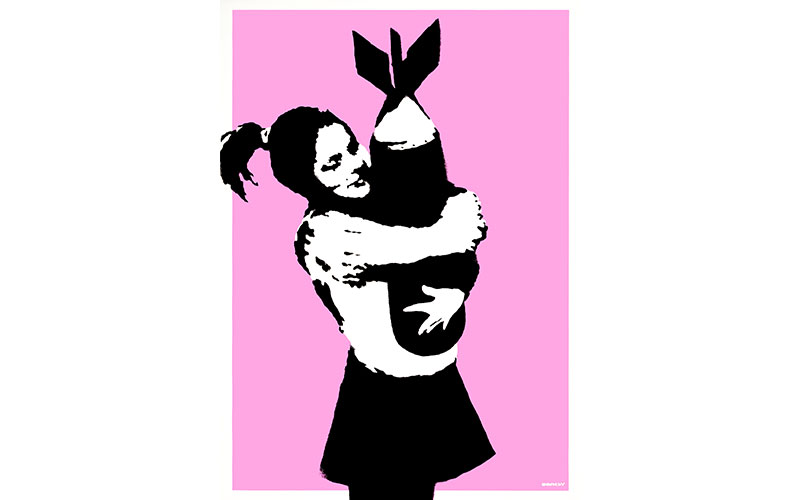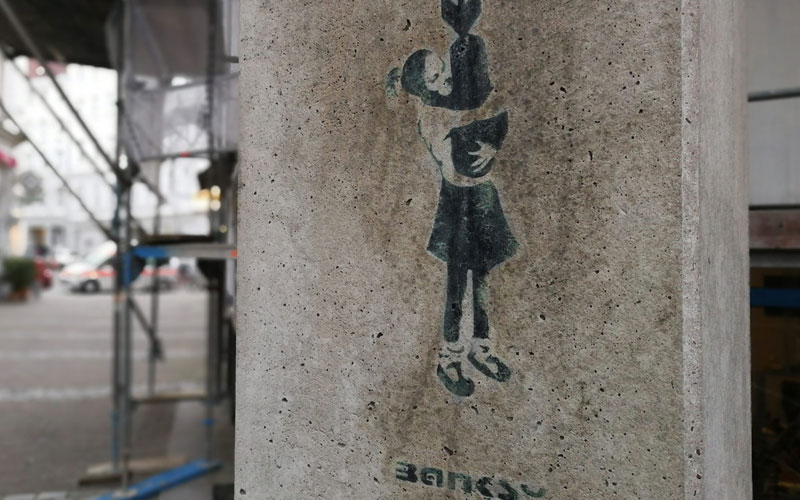 Jahr / Year:
2003

  |  Material:

Paper
Das Werk beschäftigt sich mit der weltweiten Angst vor der Atombombe während des Kalten Krieges und den Auswirk-ungen auf eine ganze Generation an Kindern, die in dieser Ära aufwuchsen. Es erinnert an den Text des Smiths-Klassikers: "Because if it's not love, it's the bomb, the bomb, the bomb that will bring us together." (Wenn es nicht die Liebe ist, ist es die Bombe, die Bombe, die Bombe, die uns vereinen wird.)
Bomb Hugger ist eines von Banksys klassischen Schablonen-Bildern (Stencil), das in Hamburg zu sehen ist. Unschuld und Schrecken werden hier in einem Motiv vereint. Ein Mädchen umarmt eine Bombe, die einer Fliegerbombe gleicht. Diese simple Handlung hinterfragt die Dichotomie zwischen Liebe und Krieg. Mit einer gewissen Ironie bringt Banksy uns zum Nachdenken, wie wir Krieg wahrnehmen und wie dieser in unserer Kultur verankert ist. Er fordert uns heraus, sich eine eigene Meinung zu bilden und sich zu überlegen, welches Erbe wir hinterlassen. "Bomb Hugger", ursprünglich bekannt als "Bomb Love", wurde erstmals 2003 als Auflage von 750 Drucken veröffentlicht – 600 unsigniert und 150 signiert. Von 2007 bis 2012 wurden Originale zu Preisen zwischen 32.000 und 48.000 US-Dollar versteigert.
This work deals with the worldwide fear of the atomic bomb during the cold war and its effects on a whole generation of children raised during this era. It calls to mind lyrics from the Smiths' classic: "Because if it's not love, it's the bomb, the bomb, the bomb that will bring us together."
Sprayed at Hamburg, Germany. Bomb hugger is a classic Banksy stencil that represents both innocence and horror. While a girl hugs a bomb similar to the ones dropped from military aircraft, with a simple image Banksy makes us question about the dichotomy between love and war. And with irony makes us wonder how we perceive war and how is attached in our culture. This challenges us to think our own views and what legacy are we giving. Bomb Hugger, originally known as Bomb Love, was first released in 2003 as an edition of 750 prints. 600 unsigned and 150 signed. From 2007 to 2012 originals have sold at auction for prices ranging form £32,000 to £48,000.