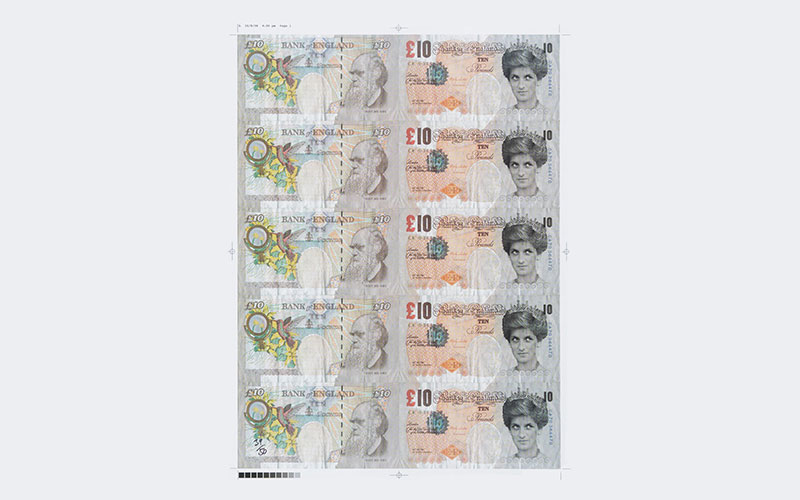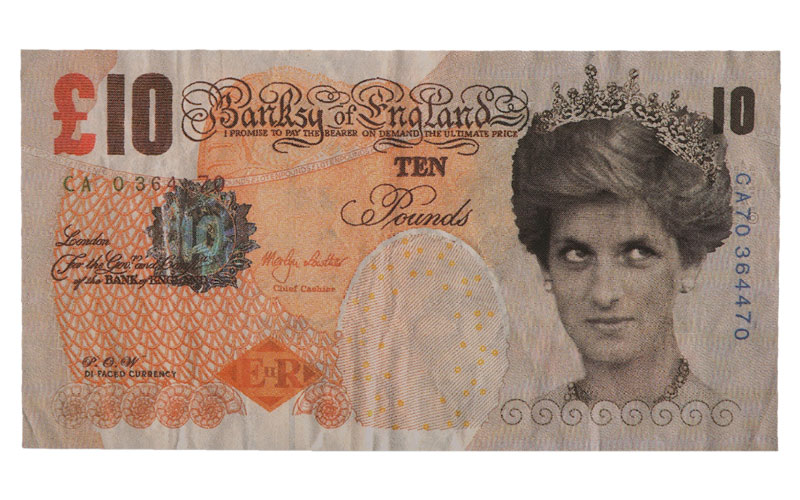 Jahr / Year:
2004

  |  Material:

Paper
"Di-Faced" ist ein Wortspiel mit dem Wort "defaced" (verunstaltet) und bezieht sich auf die Tatsache, dass Banksy hier die bekannte 10-Pfund-Note verändert hat, indem er das Porträt von Königin Elisabeth II. durch das der verstorbenen Prinzessin Diana (Lady Di) ersetzt hat.
Das Werk kann als Kommentar zu Dianas Entfremdung von der königlichen Familie, ihrer Kritik an der britischen königlichen Institution und der darauf folgenden Hetzjagd durch die Presse gesehen werden. Anstelle von "Bank of England" steht auf dem Zettel "Banksy of England". Unter dem Banner steht: "Ich verspreche, dem Überbringer auf Verlangen den höchsten Preis zu zahlen", eine Anspielung auf das Schicksal der verstorbenen Prinzessin in den Händen der Medien. Die Rückseite des Drucks bleibt im Wesentlichen unverändert, mit Ausnahme des Mottos "Traue niemandem", das in der unteren rechten Ecke unter dem Porträt von Charles Darwin steht. Die Banknote ist mit Druckfarben auf Papier gedruckt, das mit dem der offiziellen britischen Währung nahezu identisch ist.
"Di-Faced" is a pun on the word "defaced" and refers to the fact that Banksy has here altered the well-known £10 note by replacing the portrait of Queen Elizabeth II with that of the late Princess Diana (Lady Di).
The work can be seen as a commentary on Diana's estrangement from the royal family, her criticism of the British royal institution and the ensuing hounding by the press. Instead of "Bank of England", the note reads "Banksy of England". Under the banner it says: "I promise to pay the highest price to the bearer on demand", an allusion to the fate of the late princess in the hands of the media. The reverse of the print remains essentially unchanged, with the exception of the motto "Trust no one", which is written in the lower right-hand corner below the portrait of Charles Darwin. The banknote is printed with inks on paper that is almost identical to that of the official British currency.