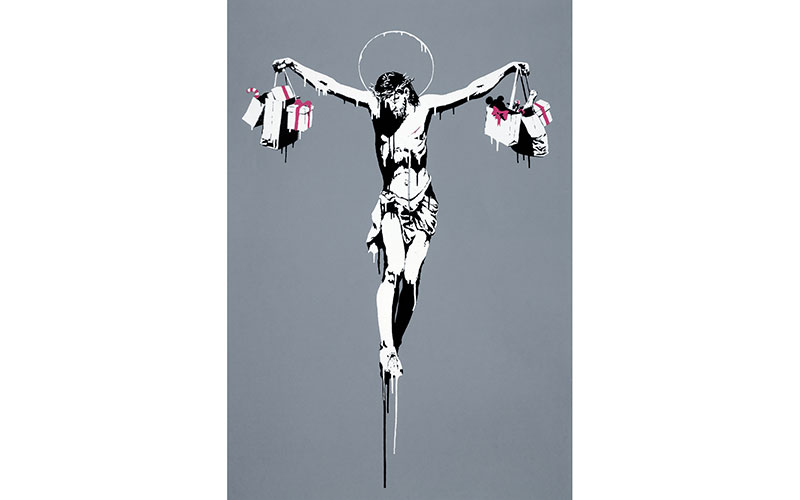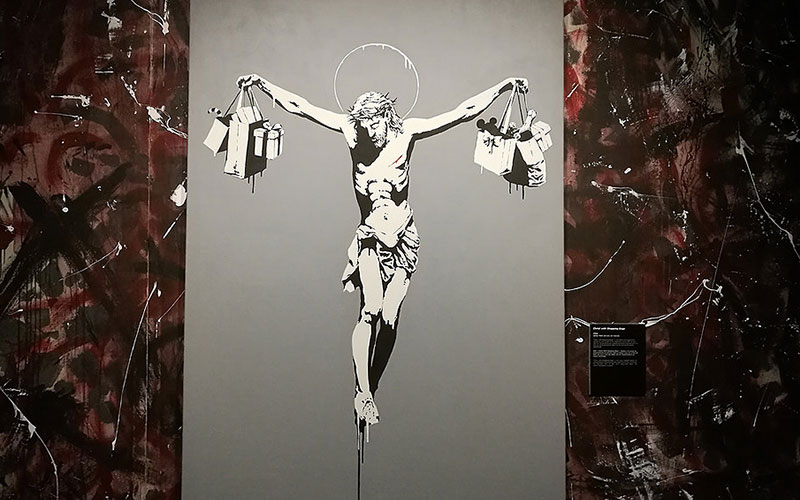 Jahr / Year:
2004

  |  Material:

Paper
Im Werk "Christ With Shopping Bags" wird Christus gekreuzigt und sein Schmerz durch das Gewicht der Einkaufstaschen nicht verringert. Der Druck ist auch unter dem Namen "Consumer Jesus" (Konsum-Jesus) oder CWSB bekannt. Auch wenn kein Kreuz zu sehen ist, lässt sich die Kreuzigung Christi sowohl an der Dornenkrone, als auch an den Nägeln in Händen und Füßen erkennen. Ergänzend wurden der Darstellung mehrere Einkaufstaschen in beiden Händen hinzugefügt, was für die Kritik an der Kommerzialisierung religiöser Feiertage steht. Kapitalismus schreckt nicht einmal vor den "heiligsten" Räumen zurück. Wie auch bei anderen Werken bedient sich Banksy hier eines altbekannten Bildthemas und verändert es hinsichtlich seiner scharfen Kritik am Kapitalismus.
Es wurden nur 82 davon produziert, möglicherweise als Anspielung auf Hugo Van Der Goes Werk "Christus am Kreuz", der 1482 starb, bevor er das Werk vollendete. Ein Original davon fand sich 2004 in der Ecke des Ladens "Santa's Ghetto". 
In the work of Christ With Shopping Bags, Christ is being crucified, and his pain is not lessened by the weight of his shopping bags. This print also known as "Consumer Jesus" or CWSB portrays a crucified Jesus Christ without a cross while wearing shopping bags. This is a criticism of the commercial meaning behind a religious festivity. How the spirit of capitalism has invaded even the most "sacred" spaces. Again Banksy changes the focus of iconic images to replace them with a fierce critique of capitalism.
There were only 82 of these produced, possibly as a reference to Hugo Van Der Goes piece 'Christ on a Cross' who died in 1482 before completing the work. There was also an original of this found in the corner of the shop 'Santa's Ghetto' in 2004.