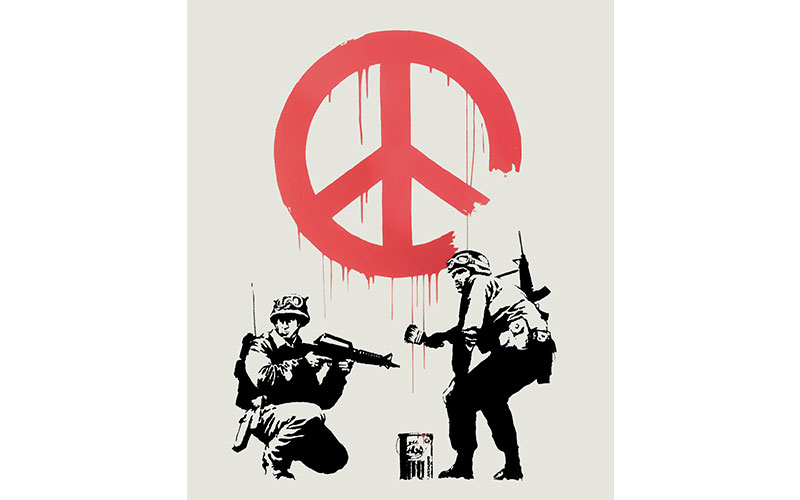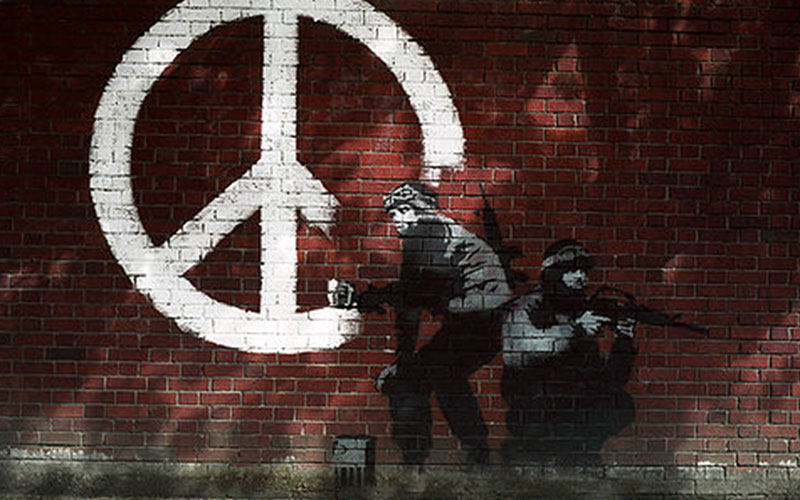 Jahr / Year:
2005

  |  Material:

Paper / Wall
Banksy ist bekannt für seine Motive, mit denen er sich aktiv gegen eine Kriegskultur ausspricht. In diesem Bild verhalten sich zwei Soldaten wie "Vandalen", indem sie ein Peace-Zeichen an eine Wand malen. Die Gegenüberstellung der Rolle der Soldaten und der blutroten Farbe des Friedenssymbols ist eine großartige Metapher, die das Kriegsgeschehen auf satirische und schockierende Weise kritisiert. Das Motiv erschien erstmals am Parlamentsgebäude während eines Antikriegsprotests geführt von Brian Haw, einem englischen Friedensaktivisten, der ein Jahrzehnt im Friedenslager von Westminster lebte. CND ist das Kürzel für Campaign for Nuclear Disarmament ("Kampagne für nukleare Abrüstung"), deren Logo das Friedenszeichen war.
Der Siebdruck CND Soldaten wurde 2005 von Pictures on Walls of London herausgegeben mit einer limitierten Auflage von 350 signierten und 350 unsignierten Drucken.
Banksy is known for his motifs with which he actively speaks out against a culture of war. In this painting, two soldiers act like "vandals" by painting a peace sign on a wall. The juxtaposition of the role of the soldiers and the blood-red colour of the peace symbol is a great metaphor that criticises warfare in a satirical and shocking way. The motif first appeared on the Houses of Parliament during an anti-war protest led by Brian Haw, an English peace activist who lived in the Westminster peace camp for a decade. CND is the acronym for Campaign for Nuclear Disarmament, whose logo was the peace sign.
The screen print CND Soldiers was published by Pictures on Walls of London in 2005 with a limited edition of 350 signed and 350 unsigned prints.