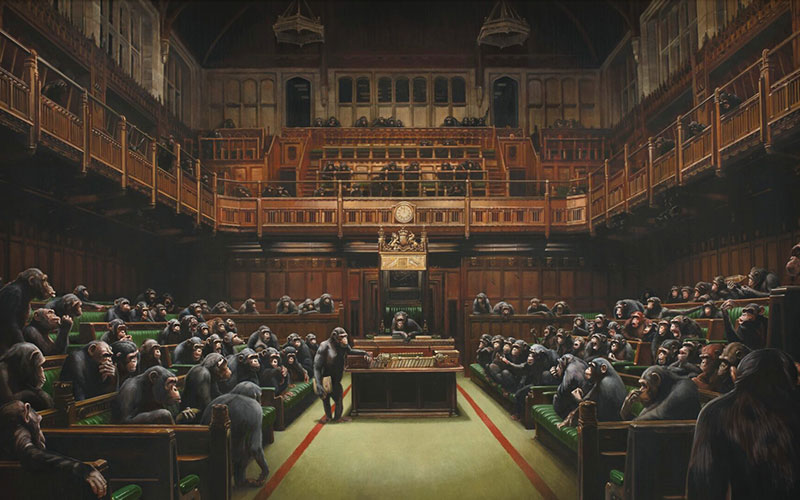 Jahr / Year:
2009

  |  Material:

Canvas
Devolved Parliament ist ein Ölgemälde Banksys, auf dem britische Politiker, die im Unterhaus debattieren, durch Schimpansen ersetzt wurden. Am 3. Oktober 2019 wurde das bisher teuerste Werk des Künstlers für 9,9 Millionen Pfund (etwa 11 Millionen Euro) bei Sotheby's in London verkauft. Das 2,5 x 4,2 Meter große Werk trug ursprünglich den Namen Question Time, als es 2009 zum ersten Mal in der Banksy-Ausstellung des Bristol Museum & Art Gallery ausgestellt wurde. 2011 wurde es an einen privaten Sammler verkauft.
Die Darstellung der Schimpansen erinnert an Banksys Werk Laugh Now aus dem Jahr 2002. Eine 1,50 Meter lange Schablonenarbeit, die eine Reihe Affen zeigt, die alle ein Schild um den Hals tragen mit der Aufschrift "Laugh now, but one day we'll be in charge".
Devolved Parliament is a 2009 oil-on-canvas painting by Banksy, replacing British politicians debating in the House of Commons with chimpanzees. In 2019, the artwork became Banksy's most costly to date, selling for £9.9 million ($12.2 million) at Sotheby's in London on October 3, 2019. The work measures 2.5 m × 4.2 m (8 ft 2 in × 13 ft 9 in) It was titled Question Time when first shown at the Bristol Museum & Art Gallery's 2009 Banksy show. It was sold to a private collector in 2011. The depiction of chimpanzees' echoes Banksy's 2002 work Laugh Now, a 6-foot-long stenciled work showing a row of apes wearing aprons with the inscription "Laugh now, but one day we'll be in charge".