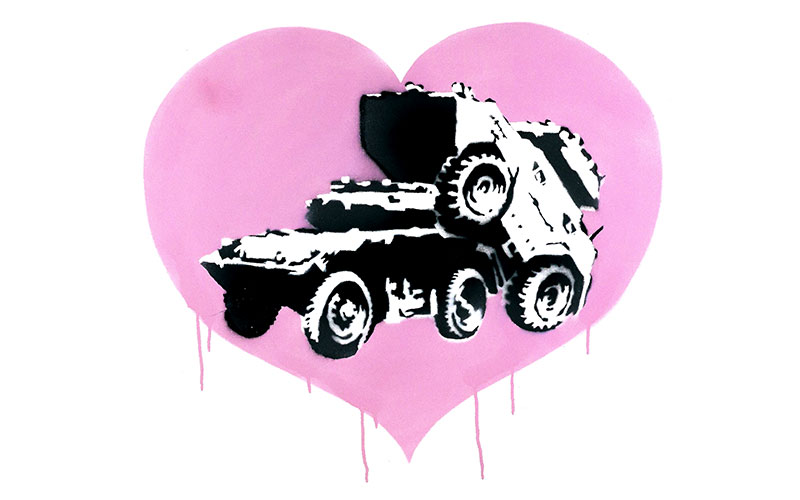 Jahr / Year:
2002

  |  Material:

Canvas
Everytime I Make Love to you I Think of Someone Else ist eine Stencilarbeit, die zwei bucklige Militärfahrzeuge beim Koitus andeutet, gerahmt von einem rosafarbenen Herzen. Es wurde bei der Ausstellung "Existencilism" des Künstlers in Los Angeles in der Galerie 33 1/3 im Jahr 2002 erstmals offiziell ausgestellt. Der Titel spielt mit der Idee, dass Krieg eine abgelaufene, unaufgeregte Beziehung ist, in der die Gedanken nicht beim Gegenüber, sondern bei jemand anderen sind. Die Banalität dieses Arrangements wird durch das übergroße rosa Herz karikiert. Das Fahrzeug auf der linken Seite hat Ähnlichkeit mit einem britischen Humber-Panzerwagen, einem der am häufig-sten produzierten Panzerwagen des Zweiten Weltkriegs. Das dominante Militärfahrzeug erinnert an eine amerikanische M1117, ein minenresistenter Panzer, der nach 2001 in zunehmender Zahl im Irak und in Afghanistan eingesetzt wurde. Die US-Regierung schaffte nach dem 11. September öffentlich die Grundlagen für eine Invasion des Iraks, die von wichtigen Verbündeten wie dem Vereinigten Königreich unterstützt wurde. Banksy nimmt den Antikriegsslogan "Make Love, not War", der allgemein mit der amerikanischen Gegenkultur der 1960er Jahre in Verbindung gebracht wird, wörtlich. Er wurde hauptsächlich von jenen verwendet, die gegen den Vietnamkrieg waren, wurde aber seitdem in anderen Antikriegskontexten auf der ganzen Welt angewendet.
Every time I Make Love to You I Think of Someone Else is a stencil implying two military vehicles having coitus, framed by a pink heart. It was first officially exhibited at the artist's 'Existencilism' show in Los Angeles at Gallery 33 1/3 in 2002.
The title of the work plays with the idea that war is like an expired, unexcited relationship in which one's thoughts are not with the person vis-à-vis, but with someone else. The banality of this arrangement is caricatured by the oversized pink heart. The vehicle on the left bears resemblance to a British Humber armored car, one of the most widely produced armored cars of World War II. The dominant military vehicle is reminiscent of an American M1117, a mine-resistant tank that was more and more used in Iraq and Afghanistan after 2001. The U.S. government publicly laid the groundwork for an invasion of Iraq after 9/11, which was supported by key allies such as the United Kingdom.
Furthermore, Banksy takes the slogan "Make Love, not War" literally. The slogan is an anti-war slogan commonly associated with the American counterculture of the 1960s. It was used primarily by opponents of the Vietnam War, but has been applied in other anti-war contexts around the world since then.
https://www.artsy.net/artwork/banksy-everytime-i-make-love-to-you-i-think-of-someone-else