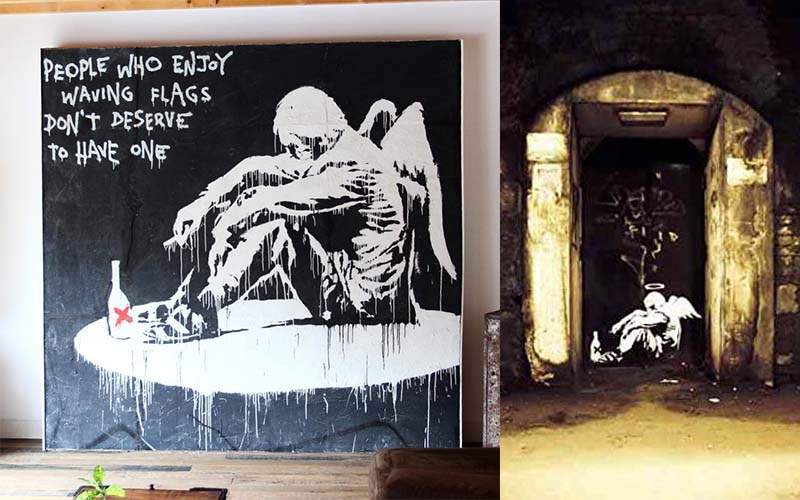 Jahr / Year:
2004 

|  Material:

Wall
Banksys Fallen Angel ist ein Wandgemälde mit einer Botschaft. Der heruntergekommene, scheinbar zerzauste und vom Pech verfolgte "Fallen Angel" zeigt einen Mann in Trainingshose, der neben einer Flasche Alkohol sitzt und eine Zigarette raucht. In leuchtend weißer Sprühfarbe hat Banksy den anonymen Mann mit Engelsflügeln geschmückt.
Der Begriff "Gefallener Engel" bezieht sich auf den Untergang von etwas, das einst als gut, rein und wunderbar galt, sei es ein Mensch, eine Gesellschaft oder eine Zivilisation. In der christlichen Mythologie ist ein gefallener Engel jemand, der den Willen Gottes ignoriert hat, der gesündigt hat und aus dem Krieg im Himmel auf die Erde gestürzt wurde. Einige Kritiker haben Banksys Motiv des gefallenen Engels als antireligiöses Statement interpretiert. Allgemeiner ausgedrückt, suggeriert das vorliegende Werk jedoch, dass jede Seele die Fähigkeit und das Potenzial hat, in Ungnade zu fallen.
Ergänzt wird das Werk durch das Banksy-Zitat "People who enjoy waving flags don't deserve to have one" (Menschen, die gerne Fahnen schwenken, verdienen es nicht, eine zu haben). Mit diesem Zitat bezieht sich Banksy auf die Ideologie des Patriotismus. Patriotismus bedeutet, dem eigenen Land die Treue zu schwören. Im Laufe der Jahrhunderte hat dieser Gedanke jedoch einige der größten Formen von Massenmobilisierung und Kriegen ausgelöst. Patriotismus wird oft mit der Kindheit und dem Ort, an dem wir aufgewachsen sind, in Verbindung gebracht. Was nicht bedacht wird, ist die Tatsache, dass wir uns zwar bei einem bestimmten Volk sicherer fühlen, uns aber auch von einem anderen entfremden und damit Spaltungen fördern, die es vielleicht vorher nicht gab. Sinnbildlich dafür steht der Fallen Angel, der als Metapher für die Kritik an dieser Ideologie fungiert.
Banksy's Fallen Angel is a mural with a message. Down-and-out, seemingly dishevelled and down on his luck, Fallen Angel shows a man in track pants sitting next to a bottle of alcohol and smoking a cigarette. In bright white spray paint, Banksy has adorned the anonymous man with angel wings.
The term "Fallen Angel" refers to the demise of something that was once considered good, pure and wonderful, be it a person, a society or a civilisation. In Christian mythology, a fallen angel is someone who has ignored the will of God, sinned and been cast down to earth from the war in heaven. Some critics have interpreted Banksy's fallen angel motif as an anti-religious statement. More generally, however, the present work suggests that every soul has the capacity and potential to fall from grace.
The work is complemented by the Banksy quote "People who enjoy waving flags don't deserve to have one". With this quote, Banksy refers to the ideology of patriotism. Patriotism means swearing allegiance to one's country. Over the centuries, however, this idea has triggered some of the greatest forms of mass mobilisation and wars. Patriotism is often associated with childhood and where we spent it. What is not considered is the fact that while we may feel safer with a particular people, we may also alienate ourselves from another, fostering divisions that may not have existed before. Emblematic of this is the Fallen Angel, which acts as a metaphor for the critique of this ideology.