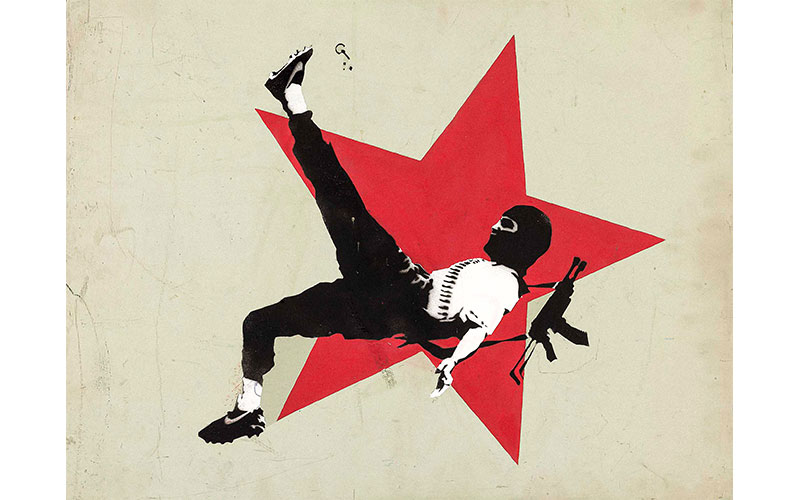 Jahr / Year:
2001

  |  Material:

Plasterboard
Das Werk Football Terrorist zeigt einen Terroristen in militärischer Kleidung und mit Sturmmaske, Maschinengewehr und Nike-Fußballschuhen vor einem roten Stern. Der Titel und die fliegende Pose erinnern an einen Fußballer, der beim Versuch den Ball wegzuschießen ausrutscht und ein Bein hochreißt. Der Fußball ist hier nicht mehr zu sehen, aber oberhalb des linken Fußes schwebt ein Stück Gras, welches beim Schuss wahrscheinlich aus dem Boden gelöst wurde.
Der fünfzackige rote Stern ist ein Symbol für die sozialistische oder kommunistische Weltanschauung. Er soll den Menschen metaphorisch den Weg in die klassenlose Gesellschaft leuchten, wird aber auch als ein internationalistisches Zeichen in der Arbeiterbewegung gedeutet. Der rote Stern steht des Weiteren für den roten Terror und die Gulags. Einige Fußballvereine tragen und trugen das sozialistische Symbol in ihrem Namen und dementsprechend auch im Logo wie Red Star Paris, Roter Stern Belgrad, Roter Stern Leipzig und Roter Stern Brünn.
The work Football Terrorist shows a terrorist in military clothing, balaclava, machine gun and Nike football shoes in front of a red star. The title and the flying pose are reminiscent of a footballer who slips and pulls up one leg while trying to kick the ball. The football is no longer visible here, but above the left foot hovers a piece of grass that was probably dislodged from the ground during the kick.
The five-pointed red star is a symbol of the socialist or communist ideology. It is supposed to metaphorically light the way to a classless society, but is also interpreted as an internationalist symbol of the labour movement. The red star also stands for the red terror and the gulags.
Some football clubs carry and have carried the socialist symbol in their name and accordingly also in their logo, such as Red Star Paris, Red Star Belgrade, Red Star Leipzig and HC Kometa Brno.