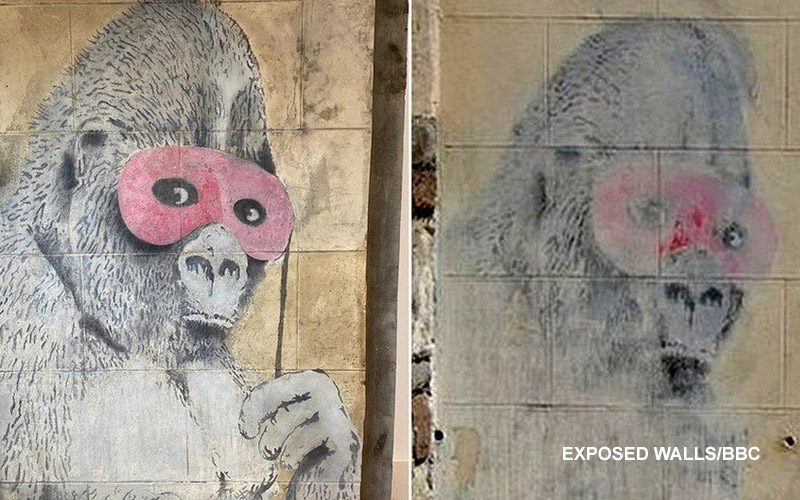 Gorilla In A Pink Mask ist eines der Frühwerke Banksys und erschien 2002 an einer Wand eines Sozialzentrums in Bristol. Der Gorilla symbolisiert die Maskulinität, die sich hinter einer pinken Maskerade versteckt. Die Farbe Rosa steht bei Banksy oft in Zusammenhang mit "weich" und "soft sein". Manchmal setzt er Militärhubschraubern eine rosafarbene Schleife auf oder karikiert einen Polizisten, der mit einem pinken Ballon-Hund unterwegs ist. Dies dient der Verniedlichung und soll die Härte der Person oder des Gegenstandes untersuchen.
Als 2011 ein neues muslimisches Kulturzentrum in das Gebäude einzog, hat der Besitzer Saeed Ahmed das Piece übermalen lassen, da der glaubte, es handele sich um ein "gewöhnliches" Graffiti. Gorilla in a Pink Mask wurde daraufhin von "Exposed Walls" aus der Wand herausgeschnitten und restauriert. Street Art wird immer öfter aus ihrem Kontext herausgerissen und man findet bemalte Gemäuer von Gebäuden in Galerien oder den Institutionen. Über diesen Trend wird sich gestritten. Künstler*innen, die unautorisiert an Wände im öffentlichen Raum malen, geben die Bildrechte an das Werk automatisch mit ab. Es steht zur freien Verfügung und kann sich entsprechend als Fotografie auf Kalendern, in Touren oder als Mauerstück verkaufen lassen. Banksy kritisiert diesen Umgang mit seiner Kunst, befürwortet aber die Unterstützung gemeinnütziger Organisationen, die gegebenenfalls durch Verwendung seiner Werke ermöglicht werden kann.
Gorilla In A Pink Mask is one of Banksy's earliest works and appeared on a wall of a social centre in Bristol in 2002. The gorilla symbolises masculinity hidden behind a pink mask. For Banksy, the colour pink is often associated with 'soft' and 'being soft'. Sometimes he puts a pink bow on military helicopters or caricatures a policeman travelling with a pink balloon dog. This serves to belittle and examine the harshness of the person or object.
In 2011 a new Muslim cultural centre moved into the building and the owner Saeed Ahmed wanted the piece painted over, believing it to be 'ordinary' graffiti. Gorilla in a Pink Mask was then cut out of the wall and restored by Exposed Walls. Street art is increasingly being taken out of its context and can be found in galleries or other institutions. This trend offers much reason for discussion. Artists who paint unauthorised on walls in public spaces automatically hand over the image rights. It is freely available and can be sold as a photograph on calendars, in tours or as a piece of wall. Banksy criticises this way of dealing with his art, but advocates the support of charitable organisations, which can be accomplished by using his works.
(Quelle: https://www.theguardian.com/artanddesign/2011/jul/15/banksy-gorilla-mask-painted-over)