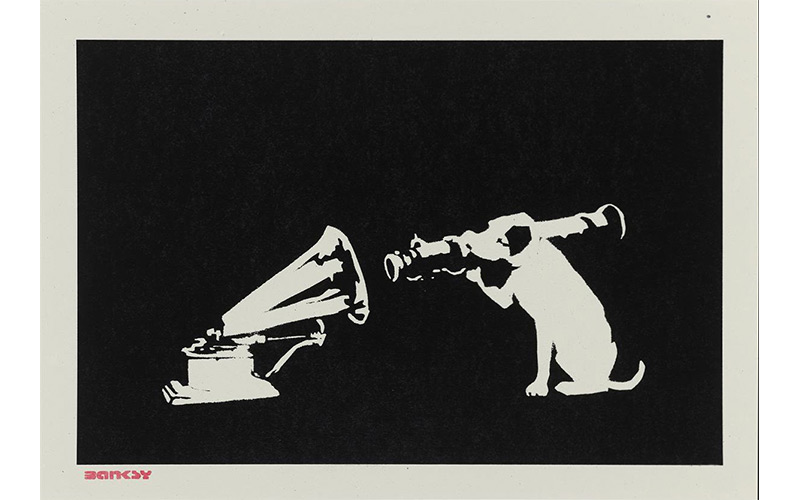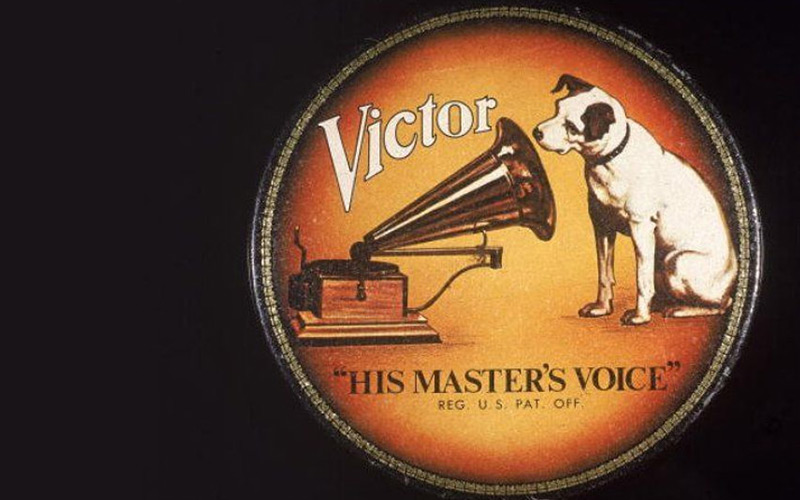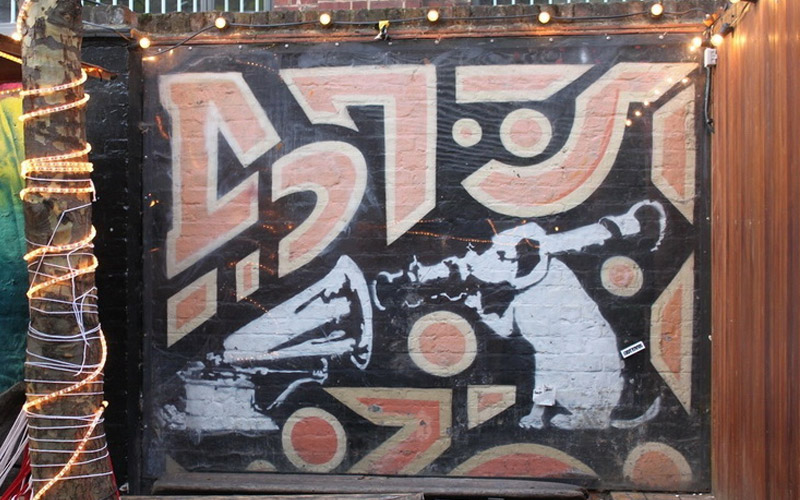 Jahr / Year:
2003

  |  Material:

Paper
In HMV, auch bekannt als His Master's Voice oder Rocket Dog, macht sich Banksy das ikonische Logo des gleichnamigen britischen Musik- und Unterhaltungsunternehmens zu eigen, das in den 1920er Jahren gegründet wurde. Ähnlich wie das Originallogo zeigt auch Banksys Druck einen sitzenden Hund im Profil, der auf ein Grammophon blickt. Mit seiner üblichen Ironie erfindet Banksy das Bild jedoch neu, indem er den anthropomorphen Hund lässig mit einer an der Schulter befestigten Bazooka-Rakete direkt auf das Horn des Grammophons zielt. Die monochrome Komposition ist formal in Banksys charakteristischem Schablonenstil gehalten.
HMV wurde erstmals Anfang 2000 auf den Straßen von Banksys Heimatstadt Bristol mit der Botschaft "Keep back 200ft" versehen. Im selben Jahr sprühte der Künstler das HMV-Hundemotiv auf die Wände des Innenhofs des Londoner Nachtclubs Cargo, diesmal mit einem bunten Hintergrund aus abstrakten gelben und orangefarbenen Formen. Banksys Werk, das als lokales Meisterwerk gefeiert wird, ist seit etwa 15 Jahren durch Plexiglas geschützt, und noch immer versammeln sich viele Menschen, um es zu sehen.
Banksys HMV-Hund erschien in den frühen 2000er Jahren auf Gemälden verschiedener Größen und wurde 2003 als Druck veröffentlicht.
In HMV, also known as His Master's Voice or Rocket Dog, Banksy appropriates the iconic logo of the British music and entertainment company of the same name, which was founded in the 1920s. Similar to the original logo, Banksy's print shows a sitting dog in profile, looking at a gramophone. However, with his usual irony, Banksy reinvents the image by casually aiming the anthropomorphic dog directly at the horn of the gramophone with a bazooka missile strapped to his shoulder. The monochrome composition is formally in Banksy's characteristic stencil style.
HMV was first stencilled with the message "Keep back 200ft" on the streets of Banksy's hometown Bristol in early 2000. That same year, the artist spray-painted the HMV dog motif on the walls of the courtyard of London nightclub Cargo, this time with a colourful background of abstract yellow and orange shapes. Banksy's work, hailed as a local masterpiece, has been protected by Plexiglas for about 15 years, and crowds still gather to see it.
Banksy's HMV dog appeared in paintings of various sizes in the early 2000s and was published in print in 2003.