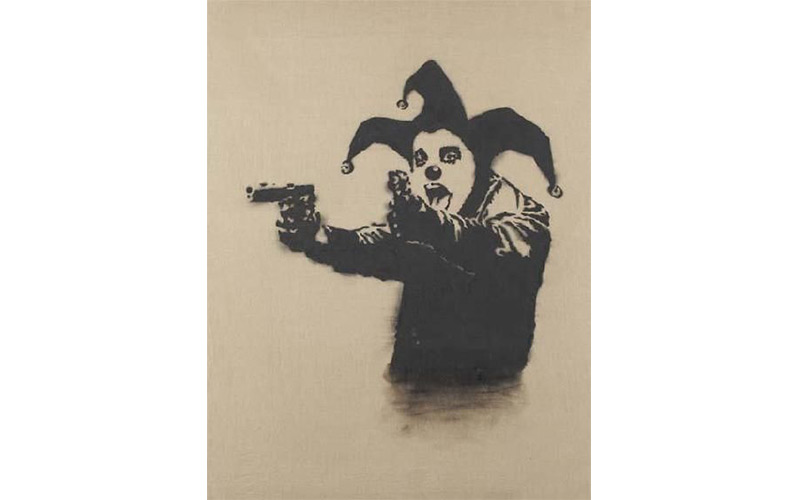 Jahr / Year:
2001

  |  Material:

Cardboard
Insane Clown entstand durch eine Zusammenarbeit mit Jeff Boardman und Vikas Malik vor zwanzig Jahren, die die Arbeit des damals aufstrebenden, aber noch relativ unbekannten Banksys unterstützten. Die Rivington Street Exhibition war ein großer Erfolg und fiel mit Banksys erstem Little Black Book "Banging My Head Against a Brick Wall" zusammen.
Dieses Event inspirierte das Duo, eine eigene Marke namens "Clown" zu gründen, die Kunst, Musik und Skateboarding vereint. Banksy übernahm die künstlerische Ausarbeitung des Logos und die Entwürfe für die ersten beiden Boards: Insane Clown und Monkey 1 & 2.
Neben Banksy arbeitete Clown Skateboards mit den Künstler*innen Mau Mau, Jock from 2000AD, Adam Neate und Ludo.
Wenig bekannt ist, dass das Motiv auch auf dem Cover der Werbe-EP für Clown-Skateboards zu sehen ist. Die CD enthält jeweils zwei Tracks von Dynamic Duo (DJ`s Niall Dail). Das Original Insane Clown wurde 2009 für 386,500 US-Dollar in Phillips, New York, versteigert.
Insane Clown occurred through a collaboration with Jeff Boardman and Vikas Malik twenty years ago, who supported the work of Banksy as an emerging but still relatively unknown artist at the time. The Rivington Street Exhibition was a huge success and coincided with Banksy's first Little Black Book, 'Banging My Head Against a Brick Wall.'
This event inspired the duo to create their own brand called 'Clown', combining art, music and skateboarding. Banksy took over the artistic elaboration of the logos and the designs for the first two boards: Insane Clown and Monkey 1 & 2.
Besides Banksy, Clown Skateboards worked with other artists like Mau Mau, Jock from 2000AD, Adam Neate and Ludo.
Little known is that the motif is also on the cover of the promotional EP for Clown Skateboards. The CD contains two tracks each by Dynamic Duo (DJ's Niall Dail). The original Insane Clown was auctioned for $386,500 in 2009 in Phillips, New York.