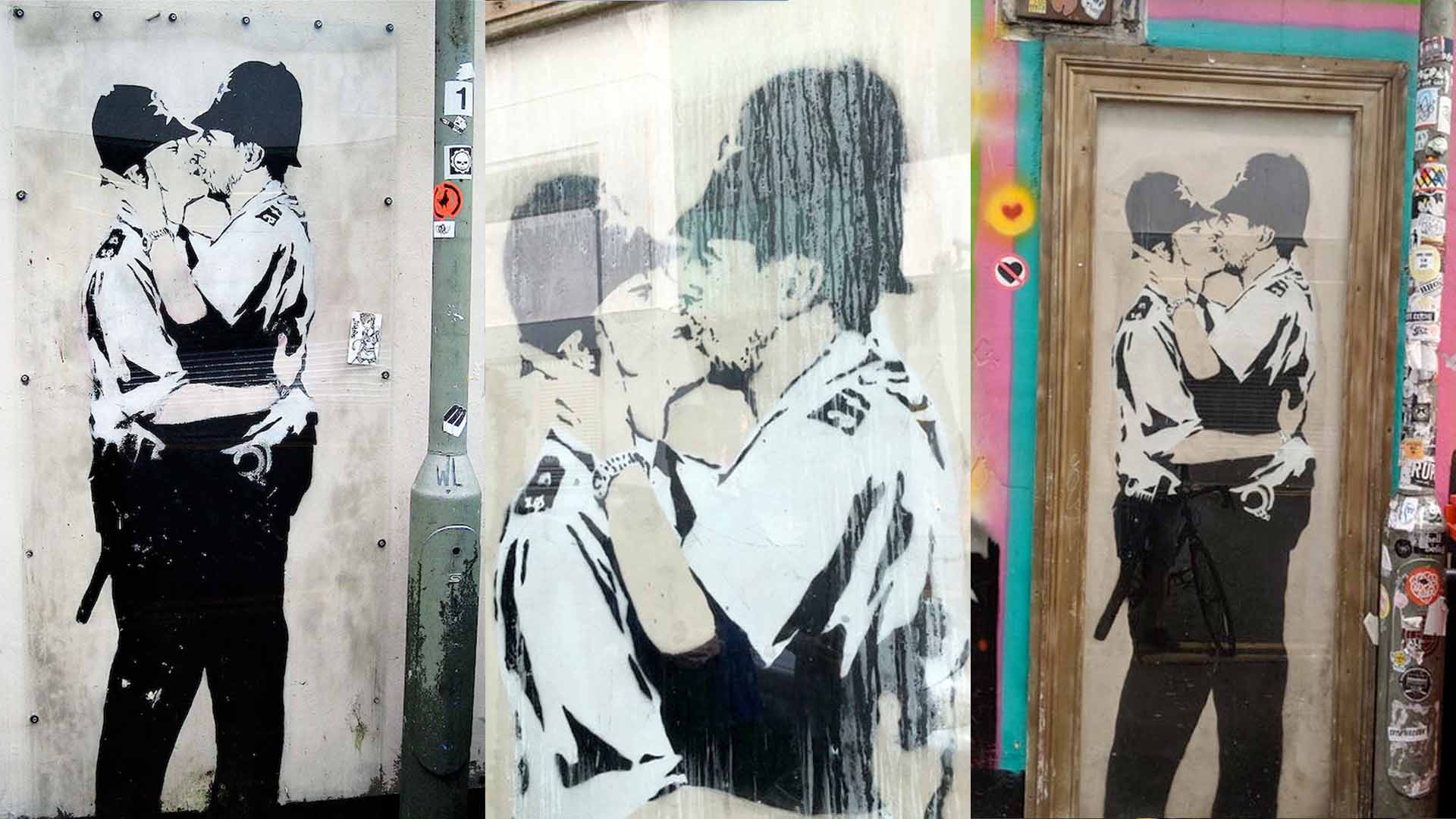 Jahr / Year:
2006

  |  Material:

Canvas
Kissing Coppers ist eine Banksy-Schablone, die zwei küssende, britische Polizisten zeigt. Sie wurde ursprünglich auf der Wand des Prince Albert Pub in Brighton 2004 enthüllt und erregte viel Aufmerksamkeit aufgrund von Banksys Allbekanntheit als provokanter Straßenkünstler und Aktivist. Sie wird oft als eines von Banksys herausragendsten Werken betrachtet.
Das Original wurde 2011 vorsichtig entfernt und bei einer Auktion in den USA für 575.000 US-Dollar verkauft. Die Wand des Pubs schmückt heute eine mit Plexiglas verkleidete Kopie. Dieses Werk feiert die Toleranz in einer Stadt, die seit den 60er-Jahren für ihre Schwulenfreundlichkeit bekannt ist. Dabei war die Öffentlichkeit nicht immer so tolerant. Noch bis zum Jahr 2000 waren Schwule vom Dienst in den britischen Streitkräften ausgeschlossen. Section 28, eine von Margaret Thatcher eingeführte Gesetzeserweiterung von 1987, die Kommunen und Schulen verbot, Homosexualität zu fördern, wurde erst 2003 abgeschafft. Erst in jenem Jahr durften Polizisten in Uniform an Veranstaltungen der Lesben- und Schwulenbewegung teilnehmen. Der Civil Partnership Act, ein Gesetz, das gleichgeschlechtlichen Paaren dieselben Rechte zuerkennt wie heterosexuellen, wurde erst 2004 eingeführt. Als Banksy also dieses Bild schuf, waren die Rechte Homosexueller noch ein großes Problem.
Kissing Coppers is a Banksy stencil depicting two British police officers kissing. It was originally unveiled on the wall of the Prince Albert pub in Brighton in 2004 and attracted much attention due to Banksy's omnipresence as a provocative street artist and activist. It is often considered one of Banksy's most outstanding works.
The original was carefully removed in 2011 and sold at auction in the US for US$575,000. The wall of the pub is now adorned with a copy covered in Plexiglas. This work celebrates tolerance in a city that has been known for its gay-friendliness since the 1960s. Yet the public was not always so tolerant. Until 2000, gays were still barred from serving in the British armed forces. Section 28, a 1987 extension of the law introduced by Margaret Thatcher that banned local authorities and schools from promoting homosexuality, was not abolished until 2003. It was not until that year that police officers in uniform were allowed to attend lesbian and gay pride events. The Civil Partnership Act, a law granting same-sex couples the same rights as heterosexual couples, was only introduced in 2004. So when Banksy created this image, gay rights were still a big issue.