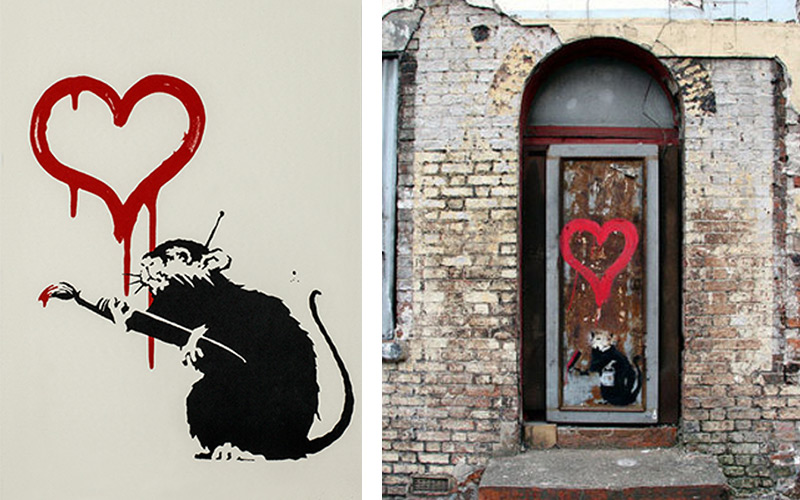 Jahr / Year:
2004

  |  Material:

Paper
Love Rat erschien zuerst als Wandbild in den Straßen von Liverpool, bevor es 2004 in einer sehr begehrten limitierten Auflage von nur 150 signierten und 600 unsignierten Drucken reproduziert wurde.
Die Ratte selbst ist in dem für den Künstler typischen monochromen Schablonenstil ausgeführt und schwingt einen großen Pinsel in ihren Pfoten. Sie scheint gerade den Umriss eines leuchtend roten Herzens auf eine Wand gemalt zu haben, was den einzigen Farbakzent des Drucks darstellt. Auf den ersten Blick sieht es so aus, als ob das Bild die Liebe auf den Straßen, auf denen es gemalt wurde, verbreiten sollte. Die blutroten Farbkleckse lassen jedoch vermuten, dass das Herz blutet. Tatsächlich erinnert uns die Liebesratte daran, dass die Liebe sowohl Schmerz und Leid als auch Freude und Vergnügen hervorrufen kann.
Love Rat first appeared as a mural on the streets of Liverpool before being reproduced in 2004 in a highly sought-after limited edition of only 150 signed and 600 unsigned prints.
The rat itself is executed in the artist's signature monochrome stencil style, brandishing a large paintbrush in its paws. It appears to have just painted the outline of a bright red heart on a wall, which is the only colour accent in the print. At first glance, it looks like the painting was meant to spread love on the streets where it was painted. However, the blood-red splashes of colour suggest that the heart is bleeding. In fact, the love rat reminds us that love can cause pain and suffering as well as joy and pleasure.