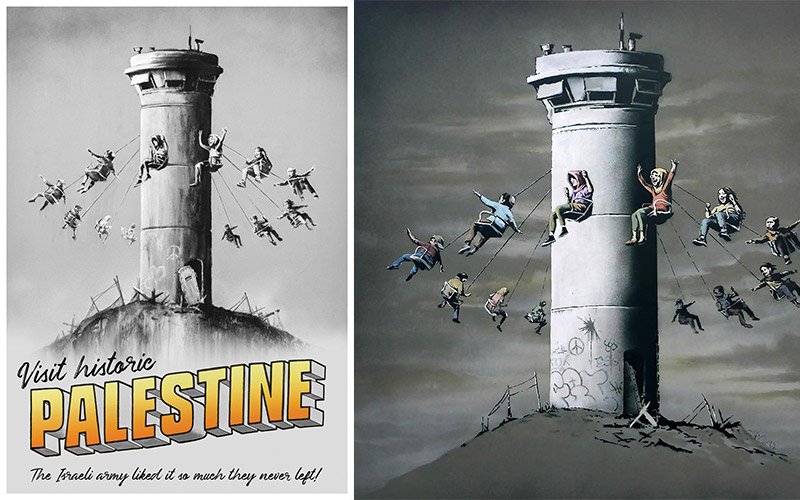 Jahr / Year:
2018

  |  Material:

Paper
Palestine Poster aus 2018 ist ein weiteres Stück des "Walled Off Hotels", welches ein klassisches Werbeplakat der 50er Jahre zu sein scheint. Plakate mit dem Slogan "Visit Palestine" wurden genutzt, um den Tourismus anzukurbeln. Banksys Version zeigt im Gegensatz zu den alten Plakaten keine einladende Landschaft, sondern einen grauen Beton-Wachturm. Der Stützpunkt ist als solcher nicht mehr in Benutzung, die Tür hängt aus den Angeln, es wurden Blümchen-Graffiti angesprüht, die Fenster sind geöffnet und die Umgebung ist wüst. Es dient jetzt als Kettenkarussell für Kinder, die sichtlich Spaß an der Fahrt haben.
Das Karussell ist eine Attraktion, die aus den Überresten des Krieges aufgebaut wurde. Auf dem Plakat steht "Besuche das historische Palästina – der israelischen Armee gefällt es so sehr, dass sie niemals verschwunden ist".
Das Kunstwerk reiht sich damit in die Serie von Kommentaren zu der Trennung von Palästina und Israel ein, die mit im "Walled Off Hotel" in Bethlehem ausgestellt sind. Das Hotel hat seit der Eröffnung 2017 über 50.000 Besucher*innen angezogen.
Palestine Poster from 2018 is another piece of the 'Walled Off Hotel', which appears as a classic advertising poster of the 50s. Back then, the slogan 'Visit Palestine' was part of an advertising campaign to boost tourism. Banksy's version, unlike the old posters, does not show an inviting landscape, but a gray concrete watchtower. The base is no longer in use as such, the door is hanging off its hinges, floral graffiti has been sprayed on it, the windows are open and the surrounding area is desolate. It now serves as a chain carousel for children, who clearly enjoy the ride.
The carousel functions as an attraction, built from the remains of war. The poster reads "Visit historic Palestine – the Israeli army likes it so much that it never disappeared."
Thus, the artwork joins a series of commentaries on the separation of Palestine and Israel that are on display at the 'Walled Off' Hotel in Bethlehem. Since its opening in 2017 the hotel has attracted over 50,000 thousand visitors.