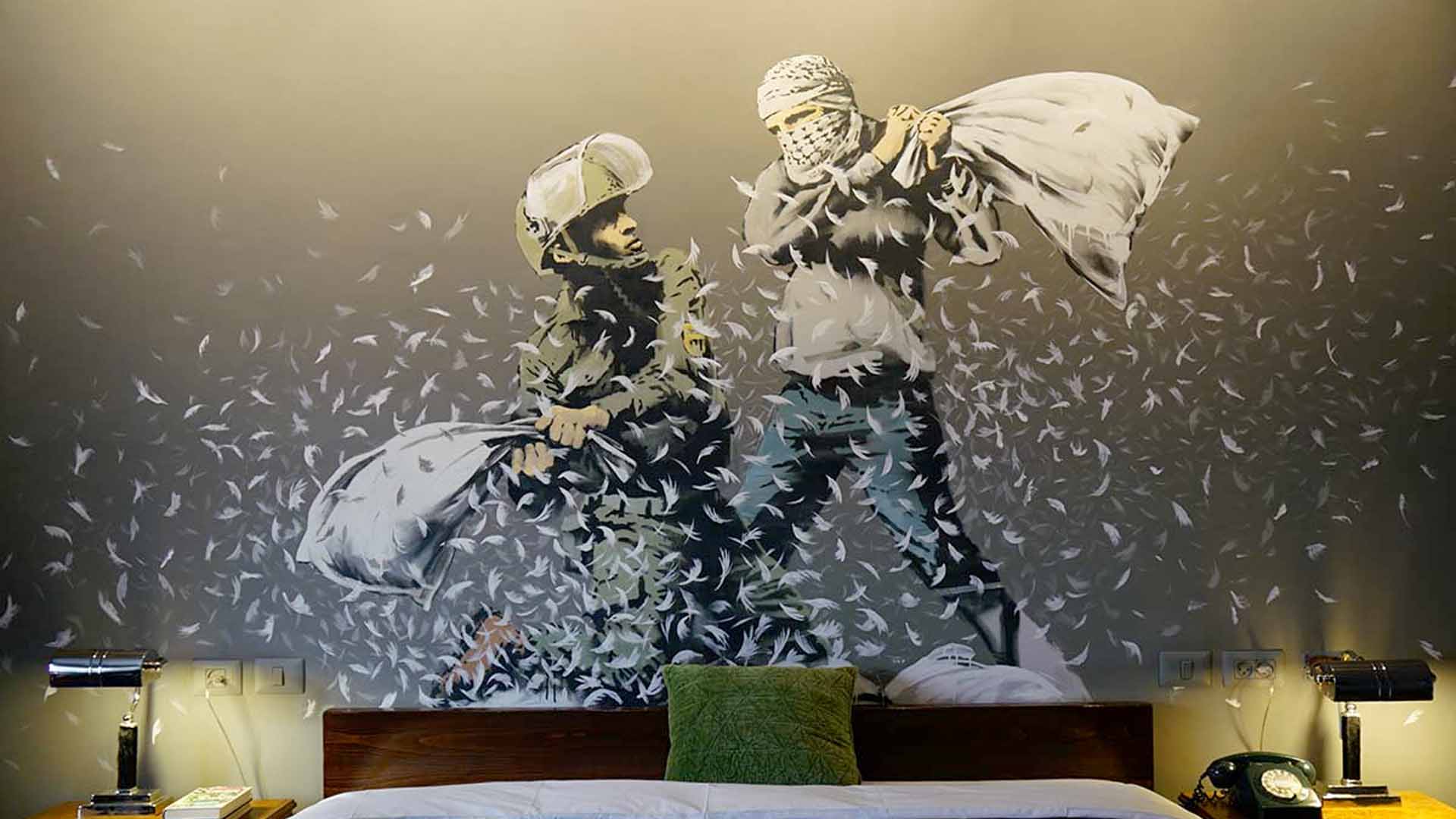 Jahr / Year:
2017

  |  Material:

Wall
Pillow Fight zeigt einen israelischen Grenzpolizisten und einen palästinensischen Mann bei einer Kissenschlacht in einem der Hotelzimmer des "Walled Off Hotels". Dieses Zimmer ist ein Highlight, bekannt als "Banksy's Room", in dem die Gäste die Nacht in einem Kingsize-Bett unter dem Kunstwerk von Banksy verbringen.
Banksy hofft, dass Israelis das Hotel besuchen (obwohl sie Bethlehem nicht betreten dürfen) und mit den Palästinensern vor Ort in Kontakt kommen, um so den dringend benötigten Dialog anzustoßen. Ob weit hergeholt oder nicht, Banksy zeigt mit Pillow Fight, dass bei einem Konflikt nicht immer zwingend schwere Geschütze nötig sein müssen, um eine gemeinsame Lösung zu finden.
Pillow Fight shows an Israeli border police officer and a Palestinian man having a pillow fight in one of the hotel rooms of the Walled Off Hotel. This room is a highlight, known as "Banksy's Room", where guests spend the night in a king-size bed under Banksy's artwork.
Banksy hopes that Israelis will visit the hotel (although they are not allowed to enter Bethlehem) and engage with local Palestinians, sparking much-needed dialogue. Far-fetched or not, Banksy shows with Pillow Fight that a conflict doesn't always require heavy artillery to find a common solution.