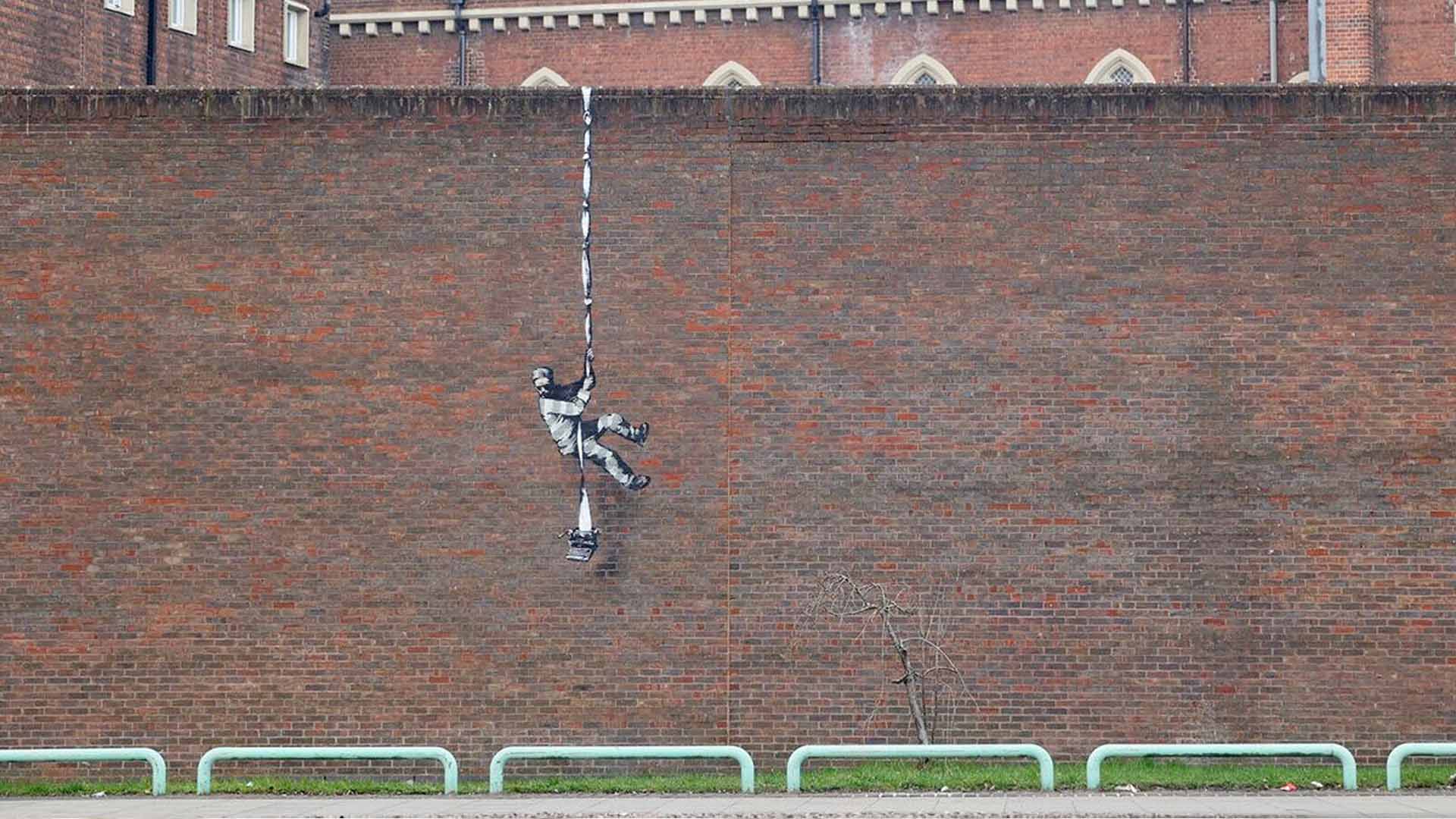 Prison Wall ist eines der jüngsten Werke Banksys an den Gemäuern des stillgelegten "Reading Prison" in Berkshire, Südengland. In dem Mural ist ein flüchtender Insasse zu sehen, der sich an dem bedruckten Papier einer Schreibmaschine abseilt. Das dazugehörige Video mit dem Titel "Create Escape" ahmt spielerisch die Kult-Show "The Joy of Painting" des Fernsehkünstlers Bob Ross nach und dokumentiert Banksys Malprozesse. Die Aufnahmen von ihm aus der Nacht werden mit den Bob Ross-Clips überspielt, als würde dieser Banksys Arbeit anstelle seiner eigenen kommentieren. Das Video ist auf dem offiziellen Instagram-Kanal zu sehen. 
Das Gefängnis wurde 2013 geschlossen und wird seit 2019 von der Regierung zum Verkauf angeboten. Das denkmalgeschützte Gebäude sollte für Wohnzwecke an ein Bauunternehmen verkauft werden. Aktivist*innen kämpfen seither darum, es in ein Kunst- und Kulturzentrum umzuwandeln und der Allgemeinheit zugänglich zu machen. Nachdem ein Verkaufsdeal platzte, hofft der Reading Council nun, die Umnutzungspläne wieder aufgreifen zu können.
Prison Wall is one of Banksy's most recent works appearing on the walls of the disused 'Reading' Prison in Berkshire, southern England. The mural features an escaping inmate rappelling down the printed paper of a typewriter. The accompanying video, titled 'Create Escape', playfully mimics TV artist Bob Ross' cult show 'The Joy of Painting' and documents Banksy's painting process. Night shots of his work are overdubbed with Bob Ross clips, as if he were commenting on Banksy's work instead of his own. The video can be seen on Banksy's official Instagram channel. The prison closed in 2013 and has been up for sale by the government since 2019. The listed building was to be sold to a developer for housing. Since then, activists have been fighting to turn it into an art and cultural centre and open it to the public. A deal to sell the building fell through last year, and Reading Council is now hoping to revive plans to convert it.
(Quelle: https://www.bbc.com/news/uk-england-berkshire-56231364)