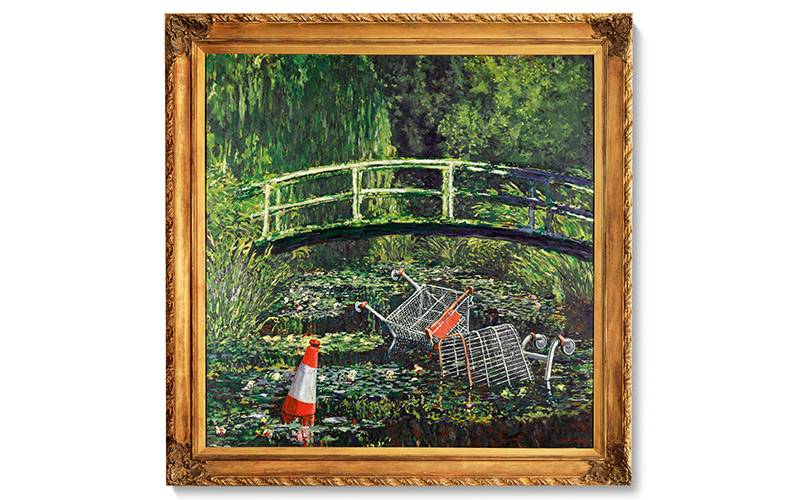 Jahr / Year:
2005

  |  Material:

Canvas
Show me the Monet wurde als Teil der "Crude Oils" in seiner zweiten Galerie-Ausstellung gezeigt, in der Reproduktionen (nicht nur) alter Ölgemälde neu inszeniert wurden. Show me the Monet bezieht sich auf das impressionistische Meisterwerk "The Waterlily Pond" von Claude Monet und verwandelt die Idylle des Gartens in Giverny in einen Müllabladeplatz. Das Werk ist für 7,6 Millionen Pfund (8,4 Millionen Euro) versteigert worden. Monets Original zeigt eine ruhige Szene des eigenen Gartens mit einer reichen Vegetation, die sich im Wasser eines Seerosen-teichs widerspiegelt. Dem Teich hat er zwei weggeworfene Einkaufswagen und einen Verkehrskegel hinzugefügt. Die entsorgten Einkaufswagen kritisieren hier eine konsum-orientierte Gesellschaft, die die Wagen für den Warentransport über größere Entfernungen verwendet, dann aber zu faul ist, um sie zurückzubringen und sie stattdessen in den nächsten Weiher wirft. Neben der Missachtung der Natur steckt in Titel und Werk auch die Kritik an den Kunstmarkt: Der Name Monet ähnelt in seiner Aussprache dem englischen Wort "Money" und so kann die Bezeichnung als "Zeig mir das Geld" anstelle "Zeig mir den Monet" gelesen werden. 
Durch eine dem Original sehr ähnliche Nachahmung werden die übermäßig hohen Preise und die Präsentation des Monets in der Londoner Nationalgalerie als arrogant dargestellt. Monet wurde in diesem Kontext zu Geld.
Show me the Monet was part of his second gallery exhibition 'Crude Oils', in which reproductions of (not only) old oil paintings were restaged. Show me the Monet references Claude Monet's Impressionist masterpiece 'The Waterlily Pond' and transforms the idyllic garden in Giverny into a dumping ground. The work has been auctioned for 7.6 million pounds (8.4 million euros). Monet's original shows a calm scene of his own garden with rich vegetation reflected in the water of a lily pond. Banksy added two discarded shopping carts and a traffic cone to the scene. The ditched trolleys criticize a consumerist society. The carts are used to transport goods over long distances, but instead of returning them they are tossed into the nearest pond. In addition to the disregard for nature, the title and the work also contain criticism of the art market: the name Monet sound very similar to the word 'money' in its pronunciation, and so the title can be read as 'Show me the money' instead of 'Show me the Monet'. Through an imitation very similar to the original, Monet's excessively high prices and his presentation in London's National Gallery are portrayed as arrogant. In this context Monet became a synonym to money.