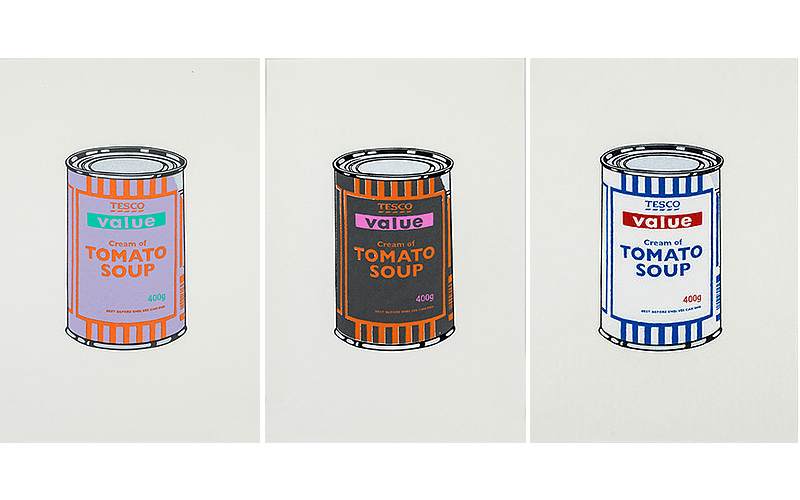 Jahr / Year:
2005

  |  Material:

Paper
Tesco Tomato Soup wurde ausschließlich im Handpressdruckverfahren hergestellt und heimlich in vielen führenden Museen wie das Tate Britain, das National History Museum in London und das Metropolitan Museum in New York ausgestellt. Obwohl dieses Werk sicherlich eine Parodie auf Warhols Campbell Soup ist – womit Banksy die Aufmerksamkeit auf den Wert des Alltäglichen lenkt – kann es auch als Teil seines Angriffs auf den Konsum betrachtet werden, der in anderen Werken veranschaulicht wird, in denen er die Marke Tesco verwendet.
Der originale Soup Can (Suppendose) Siebdruck wurde 2005 veröffentlicht und vom Künstlerkollektiv POW (Pictures On Walls) herausgegeben. Banksys Suppendosen gehören heute zu seinen bekanntesten Motiven. Insgesamt wurden von dieser Version 300 Stück gedruckt, wovon der Künstler 50 Stück signierte. Später gab es die Dosen, mit einer Auflage von je 10 Stück, in 28 verschiedenen Farbkombinationen, die ebenfalls alle von Banksy signiert wurden.
Tesco Tomato Soup was fully hand-printed and was secretly exhibited in many leading museums such as Tate Britain and the National History Museum in London and New York's Metropolitan Museum. Although this work is undoubtedly a parody of Warhol's Campbell soup can, which is Banksy employs to draw attention to the value of the mundane, it can also be said to be a part of his attack on consumerism that is further illustrated in his other works where the Tesco brand is employed.
Banksy's original Soup Can screenprint was released in 2005 and published by POW (Pictures On Walls). The artist's soup cans are now considered to be amongst his most iconic and recognisable artworks. A total edition of 300 (50 signed and 250 Soup Can unsigned prints) was released for this version. Soup Can was later released in 28 colour variations with 10 signed prints of each colour, resulting in 280 signed prints in total.