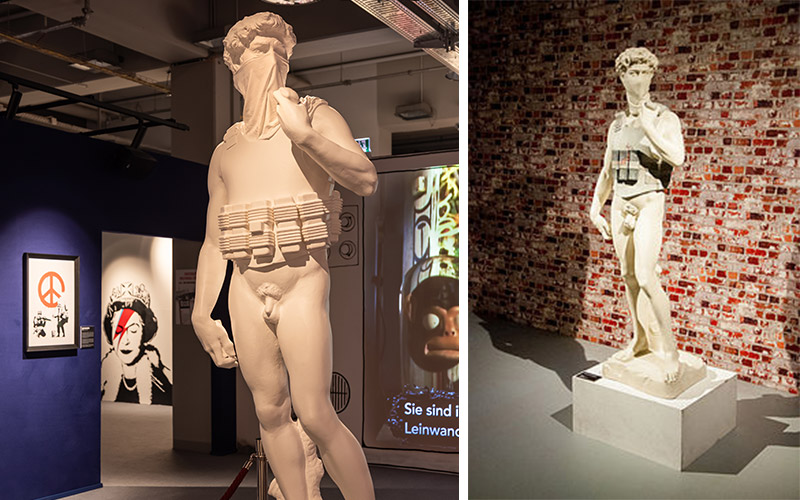 Der Suicide Bomber stellt eine Adaption der David-Figur von Michelangelo als Selbstmordattentäter dar und wurde in der Eingangshalle des Bristol Museums 2009 ausgestellt. Die Ausstellung "Banksy vs Bristol Museum" war eine der größeren Shows Banksys und zeigte mehr als 100 Kunstwerke, darunter Animatronics und Installationen. Im Laufe der zwölf Wochen wurde sie über 300.000 Mal besucht.
Die David-Statue ist ein Meisterwerk der Renaissance-Skulpturen, die zwischen 1501 und 1504 vom italienischen Künstler Michelangelo aus Marmor geschaffen wurde und steht symbolisch für Freiheit und Stärke. Die Skulptur stellt den biblischen David in dem Augenblick dar, in dem er die Steinschleuder bereits auf der Schulter angelegt hat und den Kampf gegen den Riesen Goliath aufnimmt. Die Figur zeigt einen athletischen Männerakt im klassischen Kontrapost. Das gesamte Gewicht ruht auf seinem rechten Bein, wodurch die Hüfte nach rechts verschoben wird. Kopf und Blick sind nach links gerichtet. In der rechten Hand hält David einen Stein, mit der Linken wirft er die Schleuder lässig über die Schulter. Detailaufnahmen vom Kopf zeigen übergroße, weit geöffnete Augen, eine gerunzelte Stirn und zusammengezogene Augenbrauen. Es wird der Moment vor der Aktion dargestellt. 
Banksys Version ist eine exakte Replika der David-Statue − aber mit einer Sprengsatzweste und einem Tuch vor dem Gesicht. Wie in anderen Arbeiten mit kunsthistorischen Skulpturen verwandelt Banksy ein klassisches Werk in ein zeitgenössisches Stück und hinterfragt die Glorifizierung des Krieges.
The Suicide Bomber represents an adaptation of Michelangelo's David figure as a suicide bomber and was exhibited in the entrance hall of the Bristol Museum in 2009. The Banksy vs Bristol Museum exhibition was one of Banksy's larger shows and featured more than 100 artworks, including animatronics and installations. Over the course of twelve weeks it was visited over 300,000 times.
The statue of David is a masterpiece of Renaissance sculpture, created in marble by Italian artist Michelangelo between 1501 and 1504, and is symbolic of freedom and strength. The sculpture depicts the biblical David at the moment when he has already placed the slingshot on his shoulder and takes up the fight against the giant Goliath. The figure shows an athletic male nude in classical contrapposto. The entire weight rests on his right leg, shifting the hip to the right. Head and gaze are directed to the left. In his right hand David holds a stone, with his left he casually throws the sling over his shoulder. Detail shots of the head show oversized, wide-open eyes, a furrowed brow and drawn-together eyebrows. The moment before the action is depicted.
Banksy's version is an exact replica of the David statue – but with an explosive waistcoat and a cloth in front of his face. As in other works with art historical sculptures, Banksy transforms a classic work into a contemporary piece and questions the glorification of war.
(Quelle: https://artinwords.de/michelangelo-bounarroti-david/)