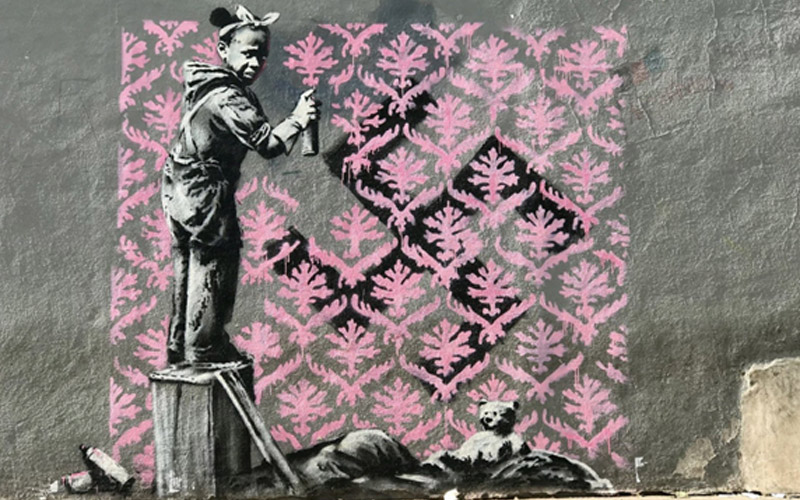 Besonders viel Aufsehen erregte diese Darstellung eines Mädchens, das ein Hakenkreuz mit einem rosa Muster übersprüht. Sie wurde in der Nähe einer früheren Erstaufnahmeeinrichtung für Migranten am nördlichen Rand der französischen Hauptstadt Paris gefunden. Banksy war schon häufiger mit politischen Botschaften aufgefallen. Das Bild ist inzwischen übersprüht worden. Banksy hatte Frankreich für seinen Umgang mit Flüchtlingen bereits 2015 in einem Kunstwerk kritisiert. In der Nähe des Camps "Jungle" in Calais hinterließ er ein Motiv, das Apple-Gründer Steve Jobs – selbst Sohn syrischer Einwanderer – mit einem Bündel über der Schulter und einem Computer in der Hand zeigt. 
Ein Graffiti im Graffiti: Ein Schwarzes Kind bedeckt mit einem entzückenden rosa Muster, welches Ähnlichkeit mit einer viktorianischen Tapete hat, ein bekanntes Symbol: ein Nazi-Hakenkreuz. Sie radiert es nicht aus. Sie mildert es nur ab, überzieht es mit einem wunderschönen Schleier, einem Make-up, das etwas Altes verjüngt. Denn das ist es, was Männer tun – so scheint Banksy uns zu suggerieren – sie verändern die Form, aber nicht die Substanz. Wenn die Sache anders aussieht, dann denkt man, dass sie wirklich anders ist.
This depiction of a girl spray-painting a swastika with a pink pattern caused a particular stir. It was found near a former first reception centre for migrants on the northern edge of the French capital Paris. Banksy had often attracted attention with political messages before. The image has since been sprayed over itself. Banksy had already criticised France for its treatment of refugees in an artwork in 2015. Near the "Jungle" camp in Calais, he left a motif showing Apple founder Steve Jobs – himself the son of Syrian immigrants – with a bundle over his shoulder and a computer in his hand. Graffiti in the graffiti: a black child covers with an adorable pink pattern (something like a Victorian wallpaper) a most well-known symbol: a Nazi swastika. She's not erasing it. She's only softening it, covering it with a gorgeous veil, a makeup to rejuvenate something ancient. Because that's what men do – it seems Banksy's suggesting us – they change the form but not the substance. If the thing seems different, then you'll think it's really different.