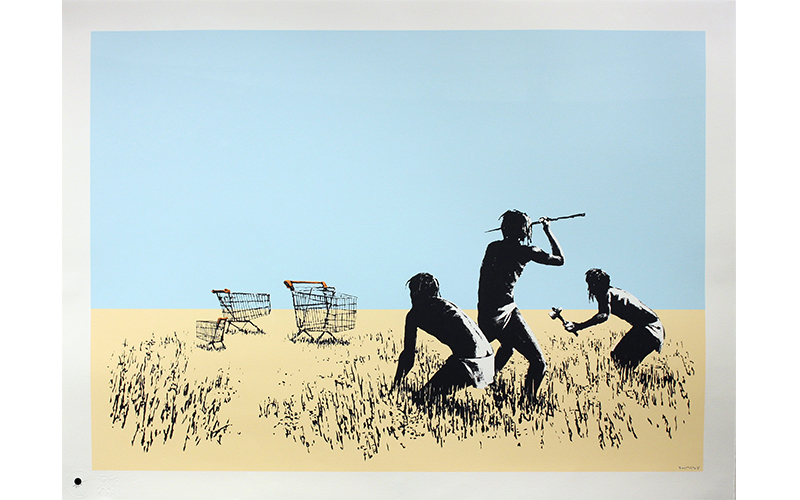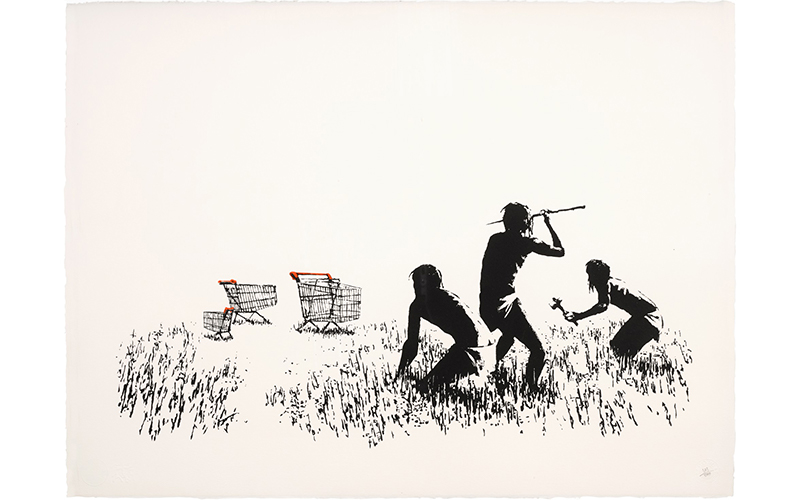 Jahr / Year:
2006

  |  Material:

Paper
Hier ist eine Jagdszene zu sehen, wobei die Tiere durch Einkaufswägen ersetzt wurden. Die primitiv anmutenden Männer halten Speere auf ihre Beute gerichtet, die ihnen still und leblos, aber doch herausfordernd entgegenblickt. Dieses eindrucksvolle Bild kann als Konsumkritik an der Gesellschaft verstanden werden, wobei besonders die Beschaffung unserer primären Nahrungsressourcen und unsere Fähigkeiten als Jäger und Sammler in Frage gestellt werden.
Verglichen mit "Sale Ends Today" hat Trolleys mehr Mitgefühl mit den Konsumenten. Es gesteht dem Menschen zumindest eine gewisse Macht und mehr freien Willen zu als der von "Sale Ends Today" porträtierte, religiöse Eifer nach Konsum. Trolleys (oder Trolley Hunters) wurde ursprünglich als Teil der LA-Edition von Banksys "Barely Legal Show" im Jahr 2006 veröffentlicht. Diese erste Inkarnation von Trolleys war nicht signiert und zählte 500 Stück. Eine begrenzte Anzahl von signierten Drucken aus der LA-Edition ist im Umlauf (niedrige Auflagenummern und Proofs).
This print formulates a hunting scene where animals are replaced by supermarket trolley carts. While primitive men hold spears at the commercial trolley, this seems to look back at them: still, lifeless but defiant. This powerful image makes us question the ways of consumption and how we obtain our primary food resources. Not leaving behind the question of our own capacity as food providers.
In comparison with "Sale Ends Today", Trolleys is more compassionate towards the consumers. At least it imbues Man with a certain power and more free will than the religious fervour towards consumerism that "Sale Ends Today" portrays. The Banksy print Trolleys (or Trolley Hunters) was originally released as part of the LA edition accompanying Banksy's Barely Legal show in 2006. This first incarnation of Trolleys was unsigned, and numbered out of 500. There are a limited number of signed prints from the LA Edition in circulation (low edition numbers and proofs), but these didn't go on general sale.