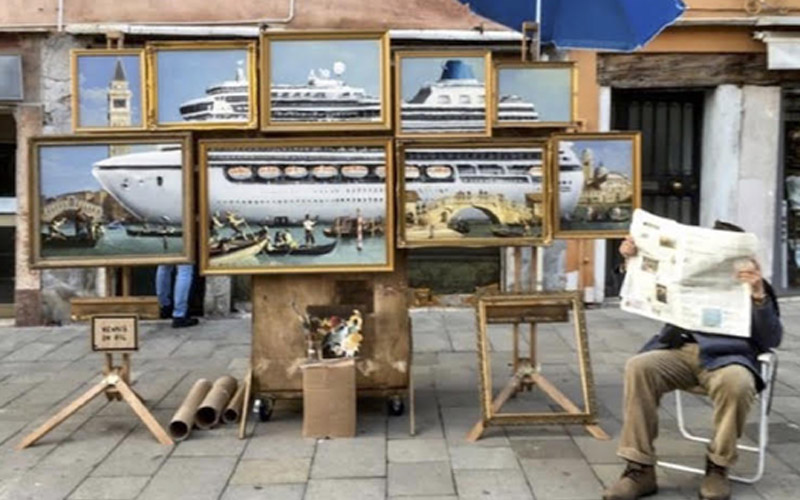 Zur Eröffnung der Biennale in Venedig 2019 platzierte Banksy einen Mann mitsamt Klappstuhl, Zeitung und Kunststand am zentralen Markusplatz. Zu sehen war eine Installation aus verschieden gerahmten und übereinandergestapelten Kunstwerken, die das Gesamtbild eines riesigen Kreuzfahrtschiffes in einem venezianischen Kanal ergeben. Der Titel Venice in Oil bekommt hier eine doppelte Bedeutung: Das Schild gibt Auskunft über das Sujet und das Material, zusätzlich kritisiert es die Umweltver-schmutzung durch die Schifffahrt und den Tourismus. 
Der Massentourismus in Venedig ist insbesondere durch die Kreuzfahrtschiffe in den letzten 15 Jahren zu neuen Dimensionen gekommen. Über 600 Passagierschiffe steuern jährlich die Lagune an, spülen mehr als 1,5 Millionen Tagestouristen in die Stadt und sind damit eine ökologische Katastrophe. Die Frachter stoßen Abgase von schädlichem, schwerölhaltigem Treibstoff aus und sind für einen Großteil der Luftverschmutzung mit zuständig. Darüber hinaus schädigen die Schiffe nachhaltig das Fundament der Lagune. Durch die mächtigen Antriebe verstärken sie Erosionen und spülen Sedimente der Gebäude fort. "Ich stelle meinen Stand auf der Biennale in Venedig ab. Obwohl ich das größte und prestigeträchtigste Kunstereignis der Welt bin, wurde ich aus irgendeinem Grund nie eingeladen." – Banksy
For the opening of the Venice Biennale 2019, Banksy placed a man with a folding chair, newspaper and art stand in the central Piazza San Marco. On display was an installation of variously framed artworks stacked on top of each other, creating the overall image of a huge cruise ship in a Venetian canal. The title Venice in Oil takes on a double meaning here: the sign provides information about the subject and the material, and in addition it criticises the environmental pollution caused by shipping and tourism.
Mass tourism in Venice has reached new dimensions in the last 15 years, especially due to cruise ships. More than 600 passenger ships call at the lagoon every year, flushing more than 1.5 million day-trippers into the city, making it an ecological disaster. The freighters emit exhaust gases from harmful fuel containing heavy oil and are partly responsible for much of the air pollution. In addition, the ships cause lasting damage to the lagoon's foundation. Due to their powerful propulsion systems, they increase erosion and wash away sediments from the buildings. "I am putting down my stand at the Venice Biennale. Despite being the biggest and most prestigious art event in the world, for some reason I was never invited." – Banksy
(Quelle: https://news.artnet.com/art-world/banksy-venice-1554328)