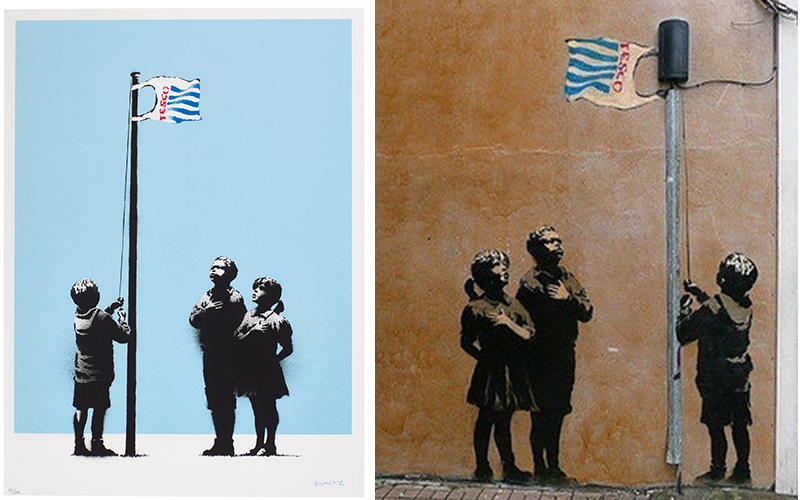 Jahr / Year:
2007

  |  Material:

Cardboard
Vor einem Hintergrund im beruhigenden Pastellblau zeigen Kinder in schwarz-weiß ihre Loyalität zur Tesco-Fahne, einem Emblem des modernen Konsums, anstelle der Insignien des Landes als "gedachte Gemeinschaft". Das Werk ist sowohl ironisch als auch real, es zeigt, wie der zeitgenössische Nationalstaat weniger Einfluss auf die Kultur hat als riesige Konzerne.
Banksy stellt die britische Supermarktkette Tesco und seine Kunden genial in einem seiner besten Situationsbilder dar. Ein Kabelkanal wird zum Fahnenmast, wir scheinen eine Flaggenzeremonie der Pfadfinder zu erleben, jedoch mit einer Einkaufstüte von Tesco statt des Union Jack. Die Scouts, gegründet auf dem Höhepunkt des British Empire, halten traditionell am Anfang wichtiger Treffen eine Flaggenzeremonie ("Flag Break") ab; "Die Zeremonie des 'Breaking' (d. h. des Entfaltens und Aufziehens einer Flagge an einem Fahnenmast) der Unionsflagge ist ein Zeichen des Respekts und erinnert uns an unsere Pflicht gegenüber der Königin und damit unserem Land", heißt es im Pfadfinderhandbuch. Interessanterweise stammt die Hand-aufs-Herz-Geste aus dem US-amerikanischen Treueschwur. Das Bild erhält dadurch mehr emotionales Gewicht. Drei traditionell gekleidete Kinder schwören hier dem Supermarkt ihre Treue. Unsere Pflicht, mahnt Banksy, besteht jetzt darin, zu konsumieren; wir haben Kinder gezeugt, die keinem höheren Zweck dienen … keine Spur von Königin oder Vaterland. Für manche, den Autor inklusive, steht das Einkaufen bei Tesco für widerwärtigen Konsumterror – die Treue zu dieser Marke wird hauptsächlich durch die niedrigen Preise bestimmt. Erstaunlicherweise ist der etwas herablassende Slogan "Every Little Helps" seit 1992 in Gebrauch; kein Wunder, dass er Ein-gang in die Alltagssprache gefunden hat. Das Model Jerry Hall verkaufte 2010 bei Sotheby's eine authentifizierte Leinwand dieses Bildes für 82.850 Pfund.
Against a background of soothing pastel blue, children in black and white show their allegiance to the Tesco flag, an emblem of modern consumerism, instead of the insignia of the country as an "imagined community". The work is both ironic and real, showing how the contemporary nation state has less influence on culture than giant corporations.
Banksy ingeniously depicts the British supermarket chain Tesco and its customers in one of his best situational images. A cable duct becomes a flagpole, we seem to be witnessing a Scout flag ceremony, but with a Tesco shopping bag instead of the Union Jack. The Scouts, founded at the height of the British Empire, traditionally hold a flag ceremony ("Flag Break") at the beginning of important meetings; "The ceremony of 'breaking' (i.e. unfurling and hoisting a flag on a flagpole) the Union Flag is a mark of respect and reminds us of our duty to the Queen and thus to our country," says the Scout Handbook. Interestingly, the hand-on-heart gesture comes from the US Pledge of Allegiance. It gives the image more emotional weight. Here, three traditionally dressed children pledge their allegiance to the supermarket. Our duty, Banksy admonishes, is now to consume; we have sired children who serve no higher purpose … no trace of queen or fatherland. For some, the author included, shopping at Tesco represents repugnant consumer terror – loyalty to this brand is mainly determined by its low prices. Amazingly, the somewhat patronising slogan "Every Little Helps" has been in use since 1992; no wonder it has found its way into everyday language. Model Jerry Hall sold an authenticated canvas of this painting at Sotheby's in 2010 for £82,850.