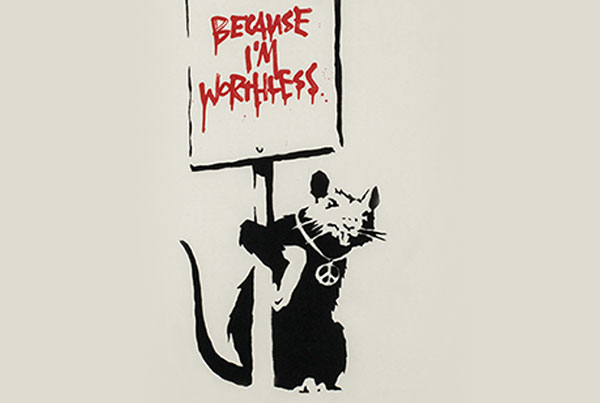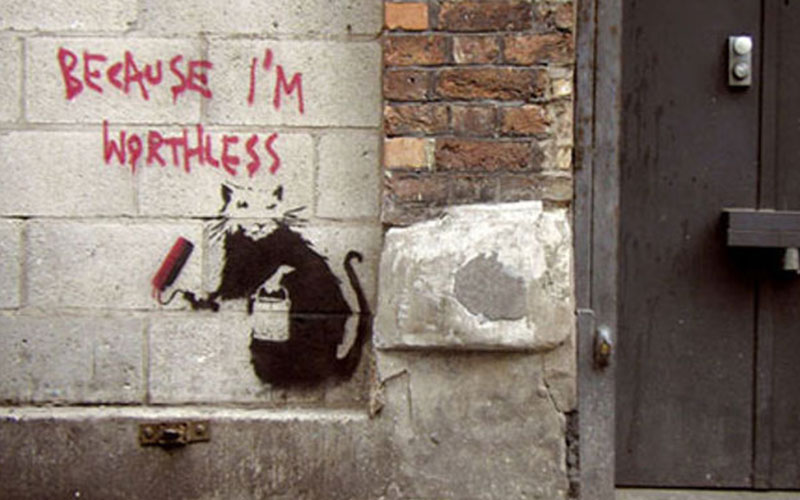 Jahr / Year:
2004

  |  Material:

Paper
Die Arbeit ist Teil einer Trilogie, die 2004 entstand. Die grimmig blickende Ratte zeigt hier ein Plakat mit der Aufschrift "Because I'm Worthless" (weil ich wertlos bin/Weil ich es nicht wert bin). Die anderen beiden Siebdrucke der Reihe sind "Get Out While You Can" (Haut ab, solange ihr könnt) und "Welcome to Hell" (Wilkommen in der Hölle).
Von dieser Arbeit entstanden 75 signierte und 175 unsignierte Drucke mit roter und pinker Aufschrift. Eine wunderschöne Parodie auf die allgegenwärtige, widerliche und flache Werbekampagne von L'Oréal (Because I'm worth it – weil ich es mir wert bin). Die gähnende Langeweile, mit der verschiedenste Models diese Zeile immer und immer wieder herunterleiern, wird hier zu einem Geniestreich. Die Ironie ist jedoch erkennbar – wie bei vielen von Banksys Werken. Banksy, einer der erfolgreichsten Künstler der Welt, soll wertlos sein? Ja, schon klar… Aufgerechnet ergäbe die gesamte Auflage einen Umsatz von 609.375 Pfund, wenn man von einem stabilen Preis ausgeht. Nicht anzunehmen, dass L'Oréal Banksy um eine Werbegrafik gebeten hätte, dabei wäre er es durchaus wert gewesen.
It is part of the Placard Rat series, a trilogy of three screen prints released in 2004 featuring the artist's iconic rat holding up a placard bearing "Because I'm Worthless." The other two screen prints of Placart Rat are "Get Out While You Can" and "Welcome to Hell". There is 75 signed screen prints and 175 unsigned prints each with red and pink colourways.
A delicious send-up of the nauseating, ubiquitous, vapid L'Oréal campaign strap-line. That stream of tedium which saw various models repeat the moronic line "Because I'm worth it" over and over again, is here transformed into a brilliant piece of wit. The irony, with the benefit of hindsight, is delicious, an effect that many Banksy works seem to acquire, viewed over time. Banksy, one of the most successful artists on the planet worthless? Yeah, right… This version was sold at Bonhams auctioneers for £8,125 in 2021. It was a signed screenprint on paper, number 55 in edition of 75. If we extrapolate, that edition of the print would be worth a total of £609,375, assuming the price hasn't gone up. We don't suppose L'Oréal asked Banksy to do a commercial for them, although he clearly is so worth it.