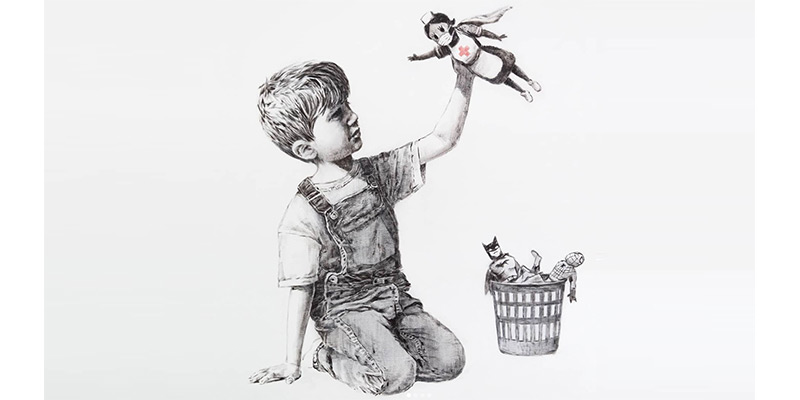 Jahr / Year:
2020

  |  Material:

Paper
Banksys überraschend ernstes Bild einer Krankenschwester als Superheldin wurde einem britischen Krankenhaus als emotionale Unterstützung gespendet. Die einen Quadratmeter große, weitgehend einfarbige Arbeit wurde zusammen mit der Krankenhausleitung im Foyer nahe der Notaufnahme aufgehängt. Es zeigt einen kleinen Jungen, der in Latzhose und T-Shirt neben einem Papierkorb kniet, in dem seine Spiderman- und Batman-Figuren liegen. Seine neue Superheldin ist jetzt eine Krankenschwester. Der Arm der Puppe ist nach vorne ausgestreckt, ganz in Superman-Manier. Sie trägt einen Mund-Nasen-Schutz, einen Schwesternumhang und eine Schürze mit dem Emblem des Roten Kreuzes als einziges farbiges Element im Bild. Der Künstler hinterließ eine Nachricht für das Krankenhauspersonal: "Danke für alles, was Sie tun. Ich hoffe, das erhellt diesen Ort ein wenig, auch wenn es nur schwarz-weiß ist."
Das symbolträchtige Bild wurde im März 2021 für 16,75 Mio. Pfund (19,45 Millionen Euro) bei einer Auktion bei Christie's versteigert – weit über Schätzwert, der bei 2,5 bis 3,5 Millionen Pfund lag. Der Erlös wurde dem britischen Gesundheitsdienst NHS gespendet.
Banksy's surprisingly serious painting of a nurse as a superhero has been donated to a British hospital as emotional support. The one-square-metre, largely monochrome work was hung in the foyer near the emergency department with the hospital's management. It shows a little boy, wearing dungarees and a T-shirt, kneeling next to a wastepaper bin containing his Spiderman and Batman figurines. His new superheroine is now a nurse. The doll's arm is stretched out in front, very Superman-like. She wears a mouth-nose guard, a nurse's cape and an apron with the Red Cross emblem as the only coloured element in the picture. The artist left a message for the hospital staff: "Thank you for all you do. I hope this brightens up this place a little, even if it's only black and white."
The iconic painting sold for £16.75 million (€19.45 million) at auction at Christie's in March 2021 – well above estimate, which was £2.5 to £3.5 million. The proceeds were donated to the British health service NHS.