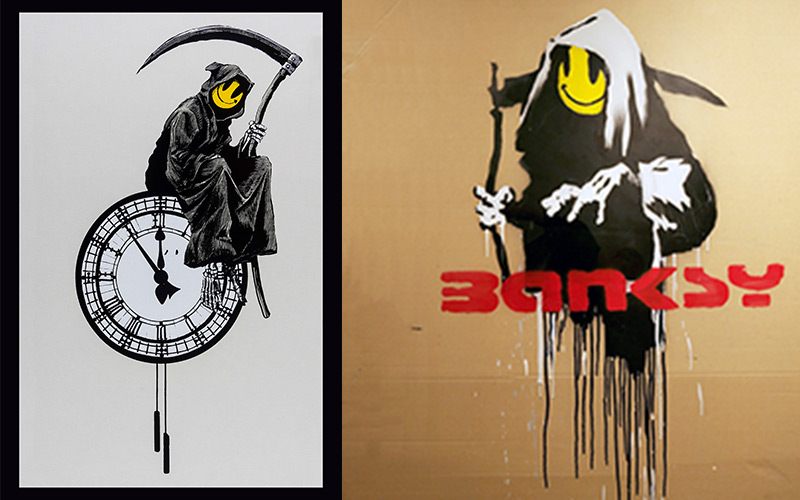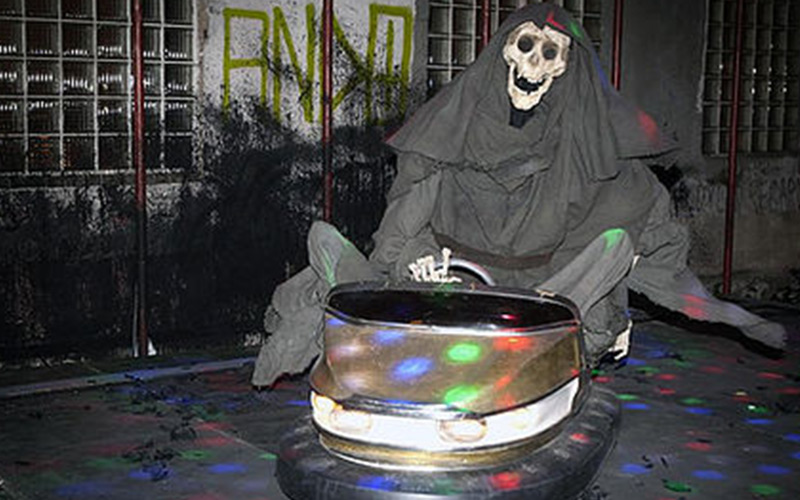 Jahr / Year:
2005

  |  Material:

Paper
Grin Reaper ist ein Siebdruck in limitierter Auflage von Banksy, der 2005 mit 300 signierten Abzügen veröffentlicht wurde. Es ist eines der frühesten und bekanntesten Werke und zeigt einen Sensenmann mit Smiley-Face auf einer Uhr sitzend. Banksy hat dieses Bild ursprünglich in der Old Street in East London gemalt, in derselben Gegend, in der der Künstler zum ersten Mal mit der DryBreadZ-Crew getaggt hat. Die meisten Street Art-Versionen des Grin Reapers wurden im Londoner Anti-Graffiti-Sweep von 2007 entfernt und überweißt.
Der Tod wird hier traditionell als Skelett in schwarzer Kluft, großer Kapuze und mit Sense dargestellt. Banksy ersetzt das schwarze gesichtslose Loch mit einem Acid-House Smiley der 80er Jahre und setzt die Figur in lässiger Haltung auf ein Zifferblatt. Die Uhr ist eine stilistische Anlehnung an die des Londoner Big Bens und die Zeiger stehen auf fünf vor zwölf. Banksy nutzt den Grin Reaper als didaktisches Mittel und Metapher für das Erkennen der bevorstehenden globalen Katastrophen. Die Redewendung "fünf vor zwölf" wird benutzt, wenn ein unwiderrufliches Ende naht und es Zeit ist zu handeln. Das Smiley-Gesicht ist ein wiederkehrendes Thema in Banksys Kunst und soll die zum "Scheitern verurteilten" Betrachter*innen verspotten, zu sehen in Have a nice Day und Flying Copper.
Grin Reaper is a limited edition silkscreen by Banksy released in 2005 with 300 signed prints. It is one of the earliest and best known works and depicts a grim reaper with smiley face sitting on a clock. Banksy originally painted this image on Old Street in East London, the same area where the artist first tagged with the DryBreadZ crew. Most street art versions of the Grin Reaper were removed and welded over in the London anti-graffiti sweep of 2007.
Death is traditionally depicted here as a skeleton in a black gown, large hood, and scythe. Banksy replaces the black faceless hole with an 80s acid house smiley and places the figure in a casual stance on a clock face. The clock is a stylistic reference to that of the London Big Ben and the hands are set at five to twelve. Banksy uses the Grin Reaper as a didactic device and metaphor for recognizing impending global catastrophes. The phrase "five to twelve" is used when an irrevocable end is near and it is time to act. The smiley face is a recurring theme in Banksy's art and is meant to mock the "doomed" viewers, seen in Have a nice Day and Flying Copper.
(Quelle: https://www.myartbroker.com/artist/banksy/grin-reaper/)