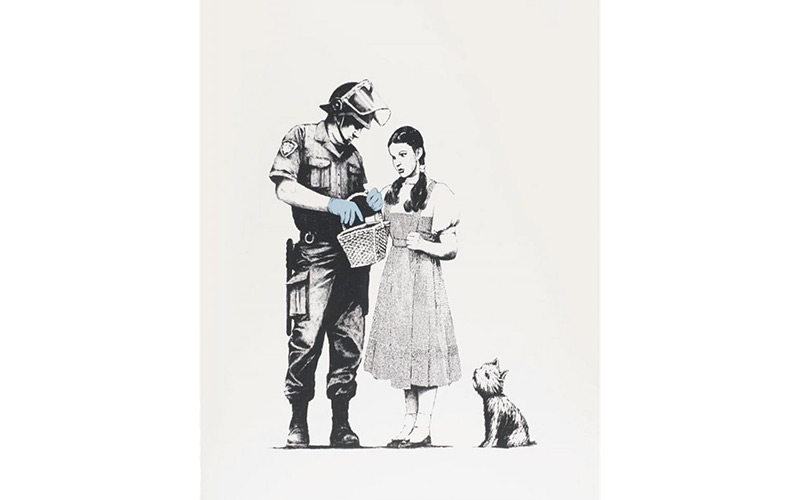 Jahr / Year:
2007

  |  Material: Paper

Die irrationalen Grenzen, die die Staatssicherheit erreichen kann, werden von Dorothy aus dem Zauberer von Oz, die von einem Polizisten durchsucht wird, großartig veranschaulicht. Der Schwarz-Weiß-Druck, abgesehen von den blauen Einweghandschuhen des Polizisten, zeigt Dorothy in ihrem berühmten, kleinkarierten Kleid, die misstrauisch den Mann beäugt, der ihren Picknickkorb durchsucht.
"Stop and Search" hat sich in letzter Zeit zu einem der begehrtesten Drucke von Banksy-Sammlern entwickelt. Banksy schuf diesen Siebdruck im Jahr 2007 mit einer limitierten Auflage von 500 Stück, die alle mit blauer Kreide signiert sind. Ein seltenes Exemplar existiert auch auf Leinwand. Das Bild hat in den letzten Jahren Auktionsrekorde erzielt. Der Zauberer von Oz ist eine Geschichte, die auf der ganzen Welt bekannt ist. Die Protagonistin, ein junges Mädchen namens Dorothy, stellt einen archetypischen Wahrheitssuchenden dar, der auf der Suche nach einem besseren Ort ist. Begleitet wird sie von ihrem Hund Toto, der Treue und Kameradschaft repräsentiert. Auf ihrer Reise werden sie von einem Offizier angehalten, der ihren Korb auf Schmuggelware überprüft. Die Figur von Dorothy wird in dieser Druckdarstellung als harmlos dargestellt und könnte ein Verweis auf die Einwanderung sein. In diesem Zusammenhang kann "Stop and Search" die Paranoia darstellen, die die Einwanderung und die Versuche der Regierungsbehörde umgibt, die Einreise von Personen, die eine bessere' Lebensqualität suchen, zu kontrollieren und zu verhindern.
The irrational limits that a security state can reach are wonderfully exemplified in Dorothy from Wizard of Oz being searched by a police officer. Printed in black and white except for the blue of the policeman's disposable gloves, the print shows Dorothy in her now iconic gingham dress, her face showing a look of concern at the man rummaging through her picnic basket.
Stop and Search has recently become one of the most sought-after prints by collectors of Banksy art. Banksy created this screen print in 2007 with a limited edition print run of 500 pieces which are all signed with blue crayon. A rare example of Stop and Search also exists on canvas. Stop and Search has made auction records for its sale prices in recent years. The Wizard of Oz is a story that is known around the world and to people of all ages. The protagonist, a young girl named Dorothy, represents an archetypal truth-seeker who travels in search of someplace better. She is accompanied by her dog, Toto who represents faithfulness and companionship. On their journey they are stopped by an officer wearing riot gear, who is shown checking her wicker basket for some variety of contraband. The figure of Dorthy is portrayed as harmless in this print depiction and could be a reference to immigration. When viewed in this context, Stop and Search may represent the paranoia surrounding immigration and government agency attempts to control and prevent entry of those seeking a better quality of life.