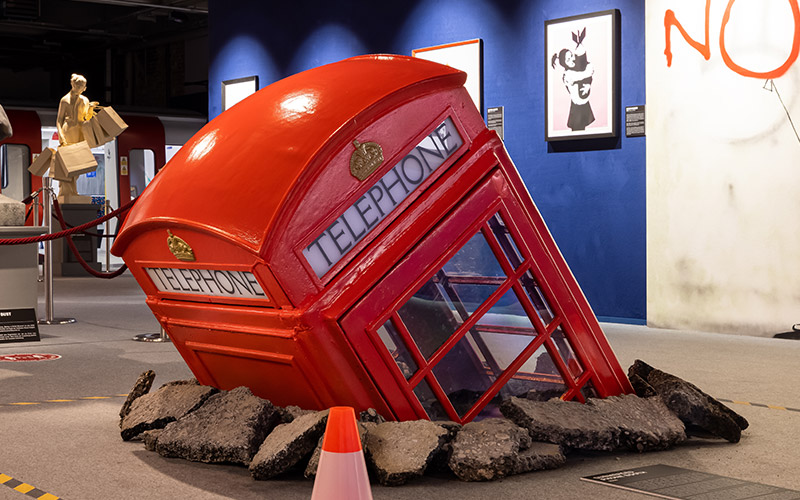 Submerged Phone Booth ist eine Installation, die in LA im September 2006 bei der "Barely Legal"-Ausstellung gezeigt wurde. Es handelt sich um eine Nachbildung einer ikonischen roten britischen Telefonzelle, die zur Hälfte schräg in den Boden versinkt oder aus diesem herausbricht. Der Betonboden ist scheinbar aufgerissen und es liegen große Betonstücke um die Zelle herum, um diesen Eindruck zu vermitteln.
Die britische Telefonzelle wurden 1924 im Rahmen eines Design-Wettbewerbs von dem Architekten Sir Giles Gilbert Scott für die Postbehörde entworfen und avancierte zu einem der Wahrzeichen Großbritanniens. Heutzutage sind die Boxen jedoch nicht mehr funktional und verschwinden zunehmend aus dem Stadtbild. Mit dem Erfolg der Mobiltelefone werden die Telefonzellen kaum noch benutzt.
Banksy erschuf neben der Arbeit, die hier zu sehen ist, ein zweites Werk namens Death of a Phone Booth, welches eine Telefonbox zeigt, die erstochen wurde. Diese platzierte er in Straßen von Soho, London. Die Skulpturen symbolisieren den Niedergang vergangener Kommunikationsmechanismen wie der der Telefonbox und bedeuten, dass wir in eine neue und dynamische Welt der Kommunikation eingetreten sind.
2008 wurde eine britische Patenschaft-Initiative ins Leben gerufen. Für den symbolischen Wert von einem Pfund kann man eine alte englische Telefonzelle kaufen. So findet man inzwischen an einigen Orten rote Telefonzellen, die in eine Espressobar, ein Bücherregal oder einen Infostand umfunktioniert wurden.
Submerged Phone Booth is an installation that was shown at the  'Barely Legal' exhibition in LA in September 2006. It is a replica of an iconic red British phone box, half of which sinks angular into or bursts out of the floor. The concrete floor appears to be ripped open and there are large chunks of concrete around the cell to give this impression.
The British telephone box was designed by the architect Sir Giles Gilbert Scott for the Post Office in 1924 as part of a design competition and became one of Britain's most famous landmarks. Nowadays, however, the boxes are no longer functional and are increasingly disappearing from the cities. With the success of mobile phones, the phone boxes became more and more redundant.
Besides this work Banksy created a second one called Death of a Phone Booth, which shows a phone box that has been stabbed to death. He placed these in the streets of Soho, London. The sculptures symbolise the demise of past communication mechanisms such as the phone box and signify that we have entered a new and dynamic world of communication.
In 2008, a UK sponsorship initiative was launched to give these iconic symbols a revival. For the symbolic value of one pound, one can buy an old English telephone box. So in the meantime you can find red telephone boxes in some places that have been converted into espresso bars, bookshelves or information booths.
(Quelle: https://www.phillips.com/detail/banksy/UK010614/16)