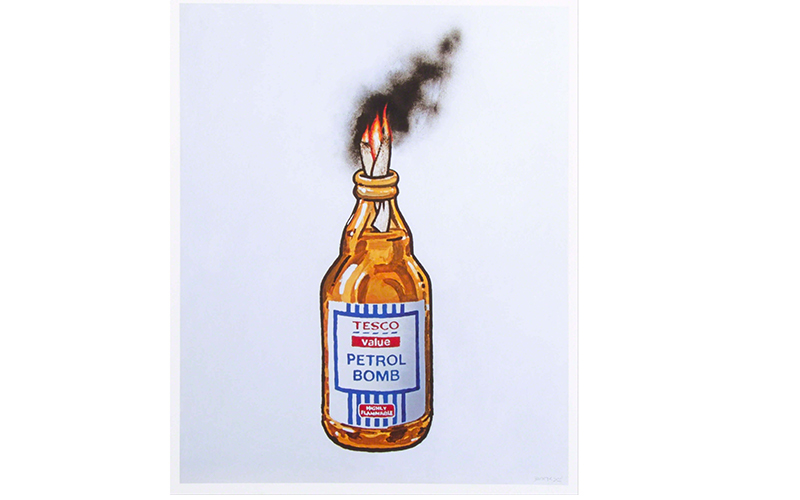 Year:
2000

  |  Material:

Paper
Tesco Value Petrol Bomb zeigt einen brennenden Molotowcocktail in einer braunen Flasche mit einem blau-weißen Tesco-Markenlabel. Der Flaschenhals ist mit einem angezündeten Tuch bestückt. Auf dem Etikett steht "Petrolbombe". Tesco ist eine britische, global vertretene Billig-Supermarktkette und Großbritanniens größte Handelskette. Weltweit betreibt Tesco mehr als 6.800 Supermärkte und beschäftigt mehr als 440.000 Mitarbeiter. Das Tesco-Motiv verwendet Banksy in mehreren Werken wie Discount Soup Can und Very Little Helps, um auf die ausbeuterischen Strukturen des Unternehmens hinzuweisen.
Diese Tesco-Variation ist als Zeichen der Solidarität gegenüber den Festgenommenen von den Unruhen in Bristol 2011 entstanden. Im April protestierte die örtliche Gemeinde gegen die Eröffnung eines neuen Tesco Express-Geschäfts in Stokes Croft, angeführt von der Gruppe "No Tesco In Stokes Croft". Obwohl die meisten Demonstranten friedlich waren, gab es einzelne Auseinandersetzungen, Sachbeschädigung und Festnahmen. Banksy produzierte mehrere Drucke zum Verkauf und spendete die Gewinne an diejenigen, die für Rechtsbeistand bezahlen müssen. Die Leute konnten die Plakate auf der "Anarchist Bookfair" in Bristol kaufen.
Tesco Value Petrol Bomb shows a burning Molotov cocktail in a brown bottle with a blue and white Tesco brand label. The neck of the bottle has a lit cloth in it. The label reads 'petrol bomb'. Tesco is a British global low-cost supermarket chain and Britain's largest retail chain. Worldwide, Tesco operates more than 6,800 supermarkets and employs more than 440,000 people. Banksy uses the Tesco motif in several works such as Discount Soup Can and Very Little Helps to highlight the company's exploitative structures.
This Tesco variation was created as a sign of solidarity towards those arrested to the 2011 Bristol riots. In April, the local community protested the opening of a new Tesco Express store in Stokes Croft, led by the group 'No Tesco In Stokes Croft'. Although most protesters were peaceful, there were isolated altercations, damage to property and arrests. Banksy produced several prints for sale and donated the profits to those who had to pay for legal aid. People were able to buy the posters at the 'Anarchist Bookfair' in Bristol.