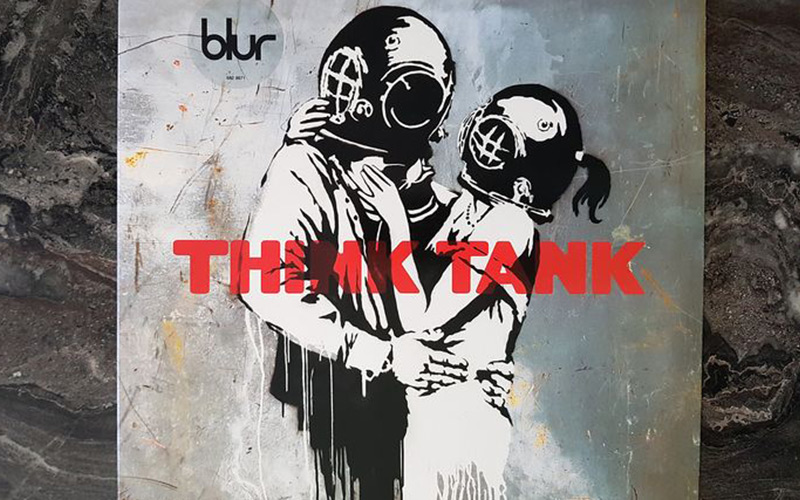 Jahr / Year:
2003

  |  Material:

Metal
Think Tank ist das siebte Studioalbum der britischen Rockband Blur, das am 5. Mai 2003 veröffentlicht wurde. Es ist ein loses Konzeptalbum, das von "Liebe und Politik" handelt. Der Leadsänger der Band, Damon Albarn, ist ein überzeugter Pazifist. Er hatte sich öffentlich gegen die Invasion Afghanistans ausgesprochen und an den weitverbreiteten Protesten gegen den Krieg teilgenommen, nachdem westliche Nationen mit dem Einmarsch in den Irak drohten. Antikriegsthemen sind sowohl im Album sowie in den dazugehörigen Kunstwerken und Werbevideos wiederkehrend.
Der hier ausgestellte Print Think Tank ist das von Banksy gestaltete Cover des Albums. Obwohl Banksy kommerzielle Arbeiten vermeidet, gibt es in solchen Kontexten immer wieder Kollaborationen. "Ich habe ein paar Dinge getan, um die Rechnungen zu bezahlen, und ich habe das Blur-Album gemacht. Es war eine gute Platte und [die Provision war] ziemlich viel Geld. Ich denke, das ist eine wirklich wichtige Unterscheidung, die gemacht werden muss. Wenn es etwas ist, an das man wirklich glaubt, ist etwas Kommerzielles tun nicht gleich Scheiße, nur weil es kommerziell ist. Sonst müsstest du ein Sozialist sein, der den Kapitalismus insgesamt ablehnt […]"- Banksy
Think Tank is the seventh studio album by the British rock band Blur, released on May 5, 2003. It is a loose concept album that deals with 'love and politics'. The lead singer of the band, Damon Albarn, is a staunch pacifist. He had publicly spoken out against the invasion of Afghanistan and participated in protests against the war after Western nations threatened to invade Iraq. Anti-war themes are recurrent in the album as well as in the accompanying artwork and promotional videos.
The print Think Tank is the album's cover, designed by Banksy. Although Banksy avoids commercial work, there are always collaborations in such contexts.
Original Zitat:
"I've done a few things to pay the bills, and I did the Blur album. It was a good record and [the commission was] quite a lot of money. I think that's a really important distinction to make. If it's something you actually believe in, doing something commercial doesn't turn it to shit just because it's commercial. Otherwise you've got to be a socialist rejecting capitalism altogether […]" – Banksy
(Quelle: https://en.wikipedia.org/wiki/Think_Tank_(Blur_album)  Ellsworth-Jones, Will (2012). Banksy: The Man Behind The Wall. Aurum Press Ltd. p. 200.)