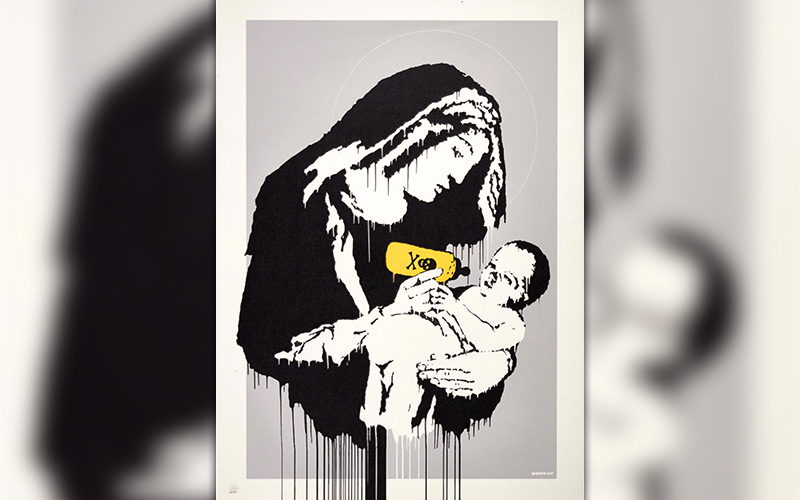 Jahr / Year:
2004

  |  Material:

Paper
Dieser Siebdruck wurde 2003 bei der Ausstellung "Turf War" (Revierkampf) im Osten von London gezeigt. Die heilige Maria gibt dem Säugling Jesus die Flasche, deren Etikett auf einen giftigen Inhalt verweist. Banksy verwendet häufig religiöse Bildthemen, um Kritik an Kapitalismus und Konsumverhalten zu üben.
Das vermeintlich unbeabsichtigt verlaufende Stencil ist eine bewusste künstlerische Entscheidung. Die Tropfen stehen sinnbildlich für eine toxische Kultur, die wie Gift von Anbeginn unseres Seins und auf aggressive Weise in unser Leben eindringt.
This screen-print was part of the "Turf War" a street artist's exhibit which took place in East London in 2003. Here we can see a virgin mary with baby Jesus in arms being feed from a bottle that contains the label toxic. This use of religious iconography to criticize mass consumerism and capitalism is frequent in Banksy's work. The way in which the stencil seems to drip is not causality but an artistic choice, the drips referees to the poison, the agro toxic culture, the invasion of agro toxics in our lives since the very beginning seems to be the main pint on this Banksy art piece.