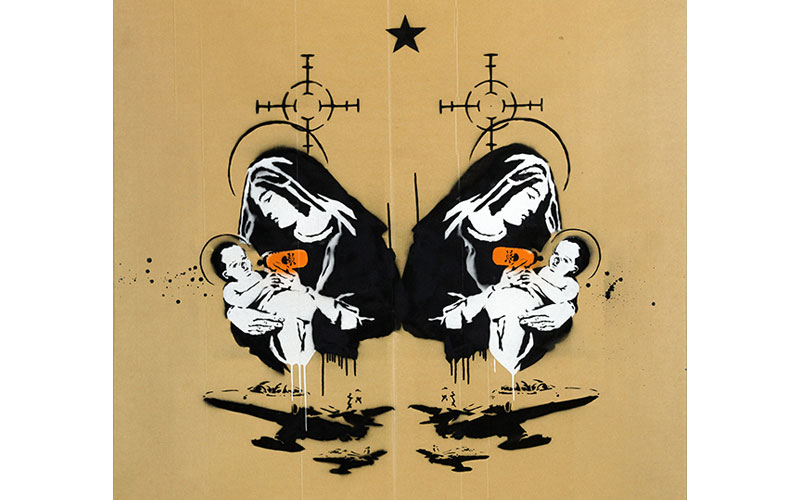 Jahr / Year:
2003

  |  Material:

Cardboard
Toxic Mary (Double) ist eine Erweiterung der Toxic Mary, welche erstmals als Gemälde bei "Turf War" gezeigt wurde, der ersten großen Ausstellung des Straßenkünstlers, die 2003 in einem Lagerhaus in East London in Dalston stattfand. Es ist eine klassische Madonnen-Darstellung mit Kind, die aber wie hier das Christuskind mit einem orangefarbenen Fläschchen mit toxischem Inhalt füttert. 
In dieser Variante hat der Künstler eine Spiegelung der Jungfrau Maria mit Kind auf goldfarbenem Grund auf großer Leinwand gemalt und damit einen Verdopplungseffekt erzeugt. Über den Köpfen der Madonnen schweben Fadenkreuze, zwischen ihnen hängt ein Stern und unter ihnen fliegen Militärflugzeuge hinweg. Banksy nutzt einerseits religiöse Ikonografie zur Kritik des Massenkonsums und des Kapitalismus, ein Beispiel dafür ist Christ with Shopping Bags von 2004. Andererseits prangert er mit ihr christliche Werte an und stellt deren Autorität infrage. Die Abbildung der heiligen Mutter, die ihr Kind mit giftiger Nahrung ernährt, wird mit Kriegsthemen erweitert und gibt eine Assoziation zu Religionskriegen. In Glaubenskriegen dient die Religion nicht nur als Mittel der Propaganda. Religiöse Versprechungen werden von den kriegsführenden Staaten zur Motivation des eigenen Volkes, insbesondere der am Kampf teilnehmenden Soldaten eingesetzt. Materielle Opfer des Krieges werden der religiösen Opferung gleichgesetzt, was eine höhere Bereitschaft zur Hinnahme der Verluste bewirkt.
Toxic Mary (Double) is an extension of Toxic Mary, which was first shown as a painting at "Turf War", the street artist's first major exhibition, held in 2003 in an East London warehouse in Dalston. It is a classic depiction of the Madonna and Child, but as here, she is feeding the Christ child with an orange vial of toxic contents. In this variation, the artist has painted a reflection of the Virgin Mary and Child on a gold ground on a large canvas, creating a doubling effect. Crosshairs float above the heads of the Madonnas, a star hangs between them, and military planes fly away below them.
On the one hand, Banksy uses religious iconography to criticize mass consumption and capitalism, an example of which is Christ with Shopping Bags from 2004. On the other hand, he uses it to denounce Christian values and question their authority. The image of the holy mother feeding her child with poisonous food is extended with war themes and gives an association to religious wars. In religious wars, religion serves not only as a means of propaganda. Religious promises are used by the warring states to motivate their own people, especially the soldiers participating in the battle. Material casualties of war are equated with religious sacrifice, which results in a greater willingness to accept the losses.
https://www.christies.com/en/lot/lot-6216857