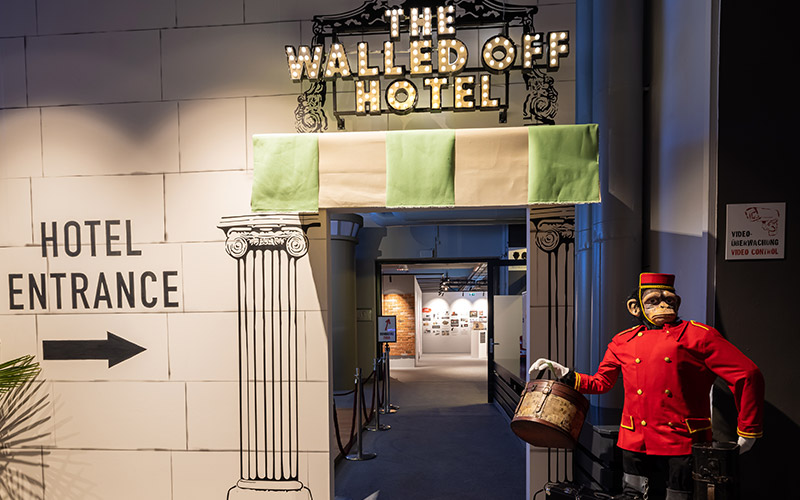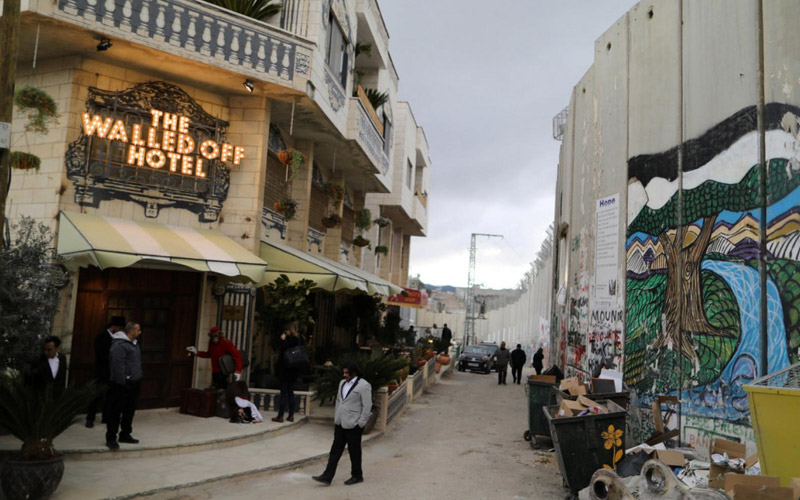 Das Walled Off Hotel ist ein buchbares Boutique-Hotel, das von Banksy zusammen mit anderen Kreativen und dem bekannten Akademiker Dr. David Grindon als Kommentar zu dem israelisch-palästinensischen Konflikt entworfen wurde. Es wirbt mit "der schlechtesten Aussicht der Welt", da es sich in Bethlehem direkt gegenüber der Sperranlage befindet, die das Westjordanland von Israel abgrenzt. Die Mauer ist nicht legal erbaut worden und wurde zu einem wichtigen Schauplatz für aktivistische Kunst. 
Das 2017 gegründete Hotel, das ursprünglich nur als temporäre Ausstellung gedacht war, hat seitdem fast 140.000 Besucher*innen angezogen und unterstützt damit die palästinensische Community. Alle Gewinne des Hotels werden gespendet. Es gilt als weiteres wichtiges Statement in Sachen sozialer Intervention und knüpft an vorangegan-gene Banksy-Projekte an, wie Dismaland 2015, das fünf Wochen lang in Weston-Super-Mare im Südwesten Englands durchgeführt wurde. 
Es gibt neun Zimmer zu den Preisen von 30 US-Dollar pro Nacht bis hin zu 965 US-Dollar für die "Präsidentensuite", Hotelpersonal in Affenkostümen, eine Pianobar, ein Museum, eine Galerie und eine Buchhandlung. Das Walled Off Hotel geht dabei achtsam mit der Umgebung um: Neben den weltbekannten Darstellungen Banksys finden sich auch die weitgehend unbekannten Werke palästinensischer Künstler*innen. Das Museum informiert dabei über die Geschichte der Region. Die Pianobar erinnert an die koloniale Aneignung von Palästina durch Großbritannien im Jahr 1917. Hier hängen die meisten Banksy-Werke, dazu werden Nachmittagstee, Cocktails, der hauseigene Walled Off-Salat sowie Pizzas serviert.
The Walled Off Hotel is a bookable boutique hotel designed by Banksy along with other creatives and renowned academic Dr David Grindon as a commentary on the Israeli-Palestinian conflict. It advertises itself as having "the worst view in the world" as it is located in Bethlehem directly opposite the barrier that separates the West Bank from Israel. The wall was not legally built and has become a major venue for activist art.
Founded in 2017 and originally intended to be a temporary exhibition, the hotel has since attracted nearly 140,000 visitors, supporting the Palestinian community. All profits from the hotel are donated. It is seen as another important statement in social intervention and follows previous Banksy projects such as Dismaland 2015, which ran for five weeks in Weston-Super-Mare in the south-west of England.
There are nine rooms ranging in price from 30 US dollars a night to 965 US dollars for the "Presidential Suite", hotel staff dressed in monkey costumes, a piano bar, a museum, a gallery and a bookshop. The Walled Off Hotel is mindful of its surroundings: In addition to Banksy's world-famous works, there are also the largely unknown works of Palestinian artists. The museum provides information about the history of the region. The piano bar reminds us of the colonial appropriation of Palestine by Great Britain in 1917. Most of Banksy's works hang here, and afternoon tea, cocktails, the hotel's own Walled Off salad and pizzas are served.
(Quelle:https://www.nytimes.com/2017/04/16/world/middleeast/banksy-hotel-bethlehem-west-bank-wall.html)