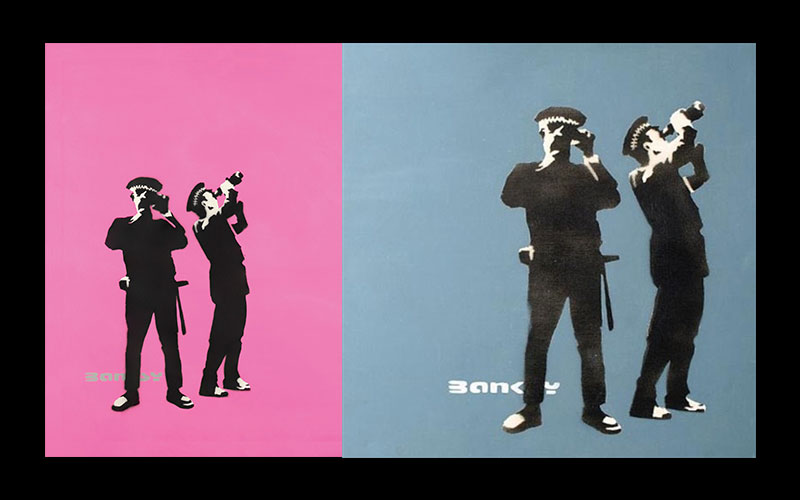 Jahr / Year:
2000

  |  Material:

Canvas
Eines von Banksys frühen Werken, welches bei Sammlern heiß begehrt ist. Die Original-Drucke werden für ca. 400 US-Dollar in Auktionshäusern wie beispielsweise Sotheby's versteigert.
Dargestellt sind zwei Polizisten, die etwas unbeholfen mit Ferngläsern in die Luft schauen. Polizisten waren jeher zentrale Figuren in Banksys Werken, da sie sinnbildlich für viele Zustände und Aktionen stehen, die der Künstler kritisiert. "Manche Leute repräsentieren Autorität, ohne selbst welche zu besitzen". − Banksy
One of Banksy's early works which is highly sought after by collectors. The original prints are auctioned for about 400 US dollars in auction houses such as Sotheby's.
Depicted are two policemen looking somewhat awkwardly with binoculars in the air. Policemen have always been central figures in Banksy's works, as they are emblematic of many conditions and actions that the artist criticizes. "Some people represent authority without ever possessing any of their own." "Some people represent authority without ever possessing any of their own." – Banksy