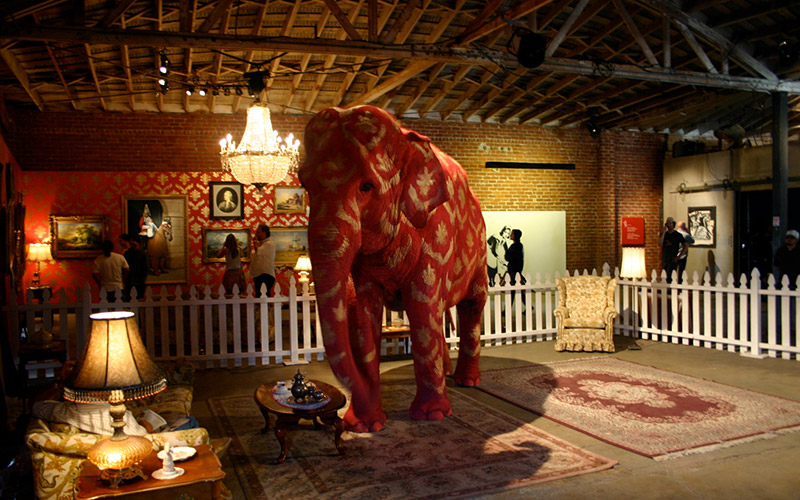 Die Barely Legal Room-Ausstellung ist einer der wichtigen Schlüsselmomente in der künstlerischen Karriere von Banksy. Er hat für diese Show sowohl Kritik als auch viel Aufmerksamkeit bekommen und sie wurde am 16. September 2006 in Los Angeles in einem Lagerhaus eröffnet. Die Exposition war kostenlos und für ein Wochenende zugänglich. Die Details der Show wurden erst am Tag der Eröffnung bekannt gegeben und die Besucher*innen wurden von einem 37-jährigen indischen Elefanten begrüßt, der mit dem gleichen Muster der Tapete bemalt war und sich frei bewegen konnte.
Banksy wollte mit dem englischen Sprichwort des "Elefanten im Raum" (eine Metapher für ein großes Problem, das aber von allen ignoriert wird) betonen, wie echte Konflikte in der heutigen Gesellschaft überschattet werden, die vorgibt, keine Missstände wie Hunger und Armut zu sehen. Es wurden Handouts an die Besucher*innen verteilt: "Es gibt einen Elefanten im Raum. 1,7 Milliarden Menschen haben keinen Zugang zu sauberem Trinkwasser. 20 Milliarden Menschen leben unterhalb der Armutsgrenze. Jeden Tag fühlen sich Hunderte von Menschen auf Kunstausstellungen körperlich krank, wenn ihnen Idioten erzählen, wie schlecht die Welt ist, aber nie etwas dagegen getan wird. Möchte jemand ein kostenloses Glas Wein?"
Das zentrale Thema der Ausstellung war die Kritik des Konsums und des kapitalistischen Modells, das auch im Barely Legal Set von Banksy stark vertreten ist. Viele der Stücke wurden bereits zuvor auf den Straßen von London und anderen Städten in Büchern über Banksys Arbeit oder auf seiner Website gesehen.
The 'Barely Legal Room' exhibition is one of the key moments in Banksy's career as an artist for what he received both critical and positive attention. The free show opened in a warehouse in Los Angeles on September 16th 2006 and was open to the public for a weekend. The details of the show were only announced on the day of the opening and visitors were greeted by a 37-year-old Indian and free moving elephant painted with the same pattern as the wallpaper. Banksy wanted to use the English saying of the 'elephant in the room' (a metaphor for a big problem but ignored by everyone) to emphasise how real conflicts are overshadowed in today's society that pretends not to see grievances such as hunger and poverty. Handouts were distributed to the visitors:
"There is an elephant in the room. 1.7 billion people have no access to clean drinking water. 20 billion people live below the poverty line. Every day hundreds of people feel physically sick from idiots at art exhibitions telling them how bad the world is but never doing anything about it. Would anyone like a free glass of wine? " The central theme of the exhibition was a critique of consumerism and the capitalist system, which is also heavily represented in Banksy's Barely Legal set. Many of the pieces have been seen before on the streets of London and other cities, in books about Banksy's work or on his website.
(Quelle: https://www.nytimes.com/2006/09/16/arts/design/16bank.html https://www.artrust.ch/banksy-barely-legal-among-irreverent-prints-and-painted-elephant/?lang=en)