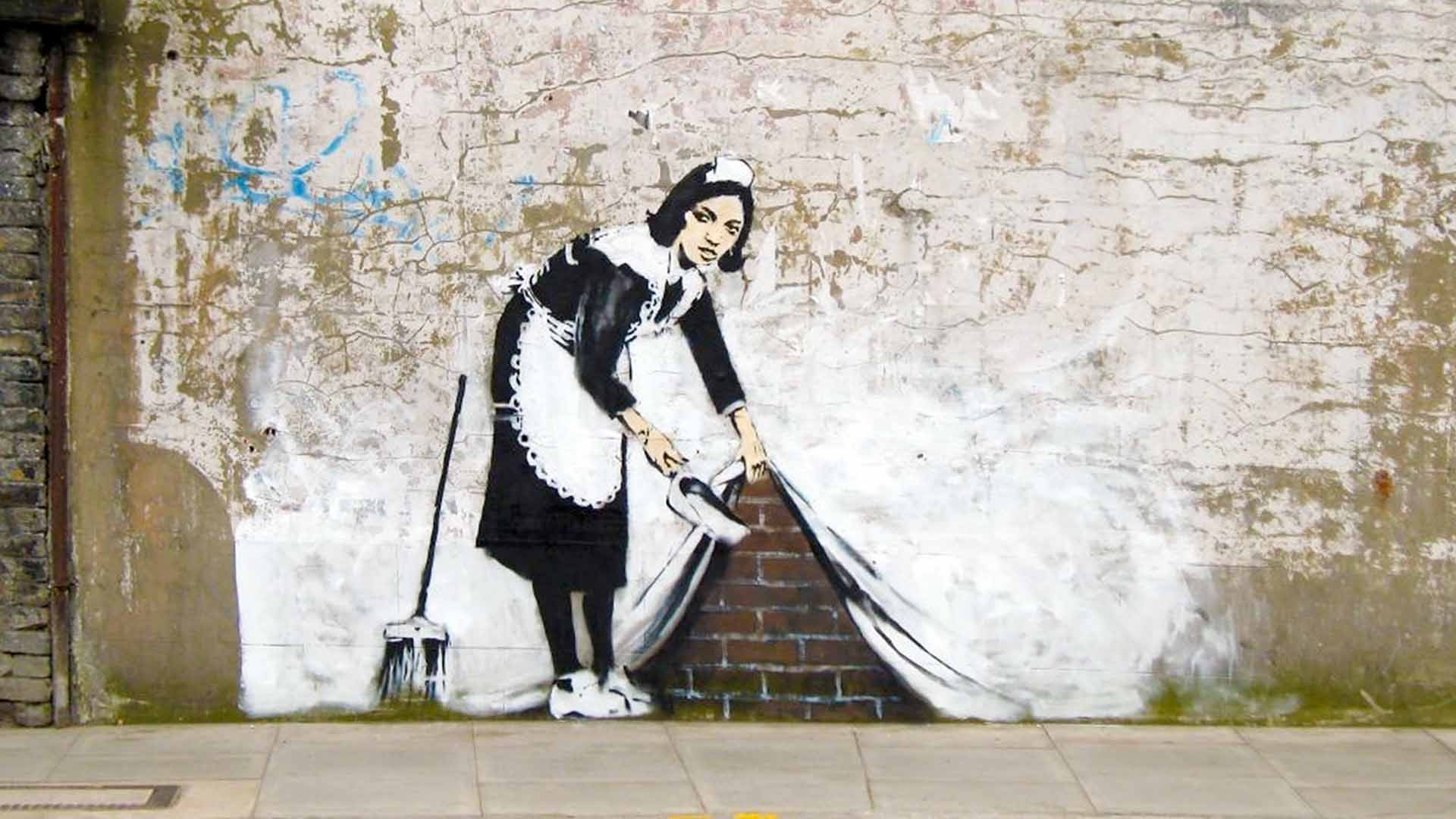 Jahr / Year:
2006

  |  Material:

Wall
Banksys English Maid, auch bekannt als "Sweep It Under The Carpet Maid", hält die Straßen des Hoxton Square sauber und aufgeräumt. Diese roten Ziegelsteine wurden auf die weiße Wand der White Cube Galerie gemalt. Die Galerie ließ das Gemälde eine Zeit lang an der Wand, entfernte es aber schließlich. Es ist zweifelhaft, ob es überhaupt überlebt hätte, denn in den Straßen Londons gibt es kaum noch etwas von Banksy, das nicht in irgendeiner Weise verändert worden wäre.
Die Zeitung "Independent" behauptete zunächst, dass eine andere Version dieses Bildes von ihr "in Auftrag gegeben" wurde, um an der Kreuzung der Regents Park Road und der Chalk Farm Road zu erscheinen. Diese Behauptung wurde inzwischen zurückgezogen und auf der Website von Banksy eindeutig widerlegt: "Banksy macht keine Graffiti-Aufträge für überregionale Zeitungen und es ist unwahrscheinlich, dass er in naher Zukunft damit anfängt."
Banksy erklärte die Bedeutung hinter dem Bild: "In den schlechten alten Zeiten, als nur Päpste und Prinzen das Geld hatten, um für ihre Porträts zu bezahlen, ist dies ein Porträt eines Zimmermädchens namens Leanne, die mein Zimmer in einem Motel in Los Angeles gereinigt hat. Sie war eine ziemlich temperamentvolle Dame."
Banksy's English Maid, also known as Sweep It Under The Carpet Maid, keeps the streets of Hoxton Square clean and tidy. These red bricks were painted on the white wall of the White Cube Gallery. The gallery left the painting on the wall for a while but eventually removed it. It is doubtful whether it would have survived at all, as there is hardly anything by Banksy left on the streets of London that has not been altered in some way.
The Independent newspaper initially claimed that another version of this painting had been "commissioned" by it to appear at the junction of Regents Park Road and Chalk Farm Road. This claim has since been retracted and clearly refuted on Banksy's website: "Banksy does not do graffiti commissions for national newspapers and is unlikely to start in the near future."
Banksy explained the meaning behind the image, "In the bad old days when only popes and princes had the money to pay for their portraits, this is a portrait of a maid called Leanne who cleaned my room in a motel in Los Angeles. She was quite a feisty lady."