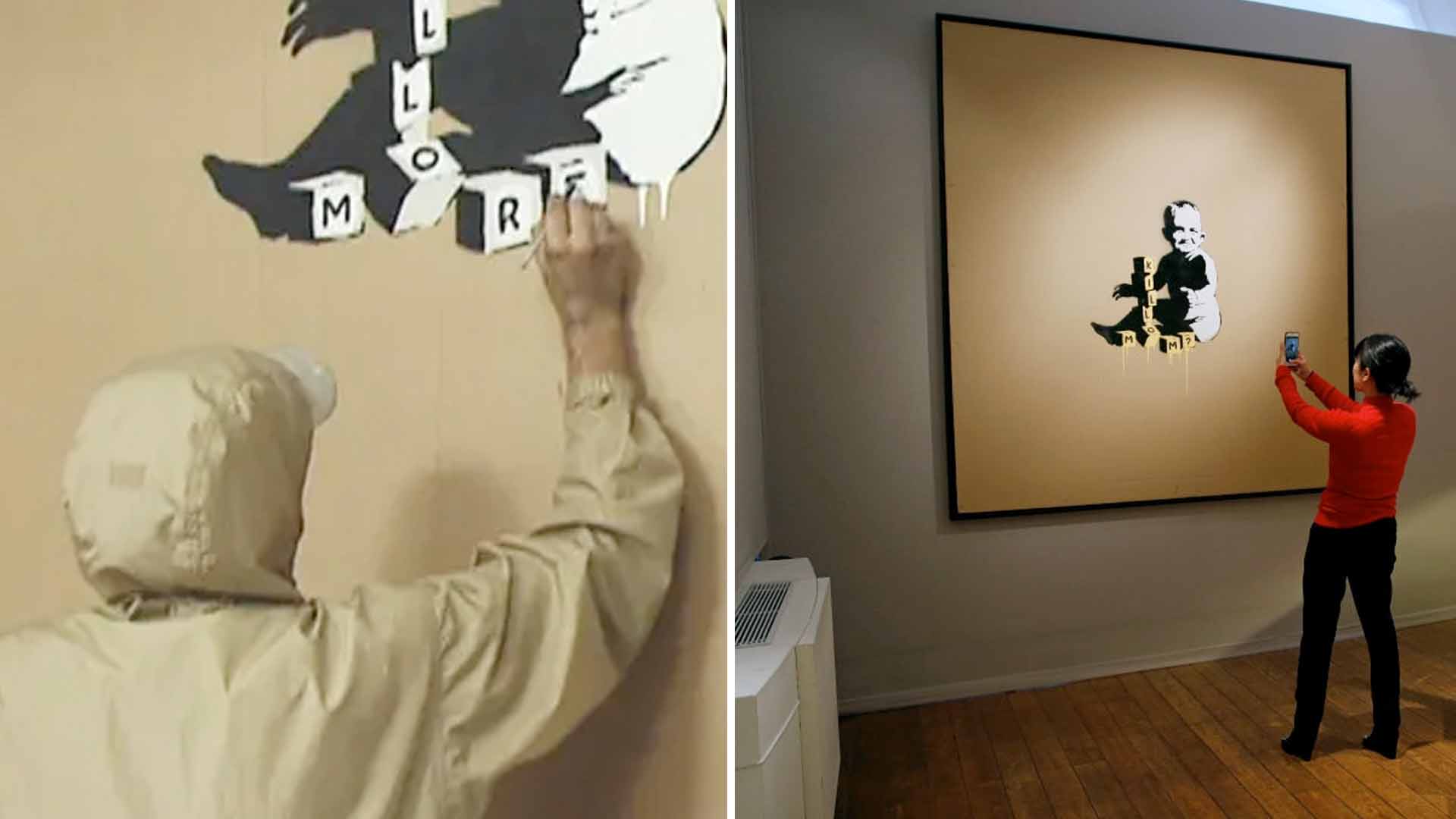 Jahr / Year:
2005

  |  Material:

Paper
Kill Mom zeigt einen kleinen Jungen, der am Boden sitzend mit mehreren kleinen Würfeln spielt, die wiederum mit einem Buchstaben auf jeder Seite beschriftet sind. Der Junge stapelt fünf dieser Würfel zu einem Turm, während die restlichen vier Würfel vor ihm nebeneinander auf dem Boden liegen. Sichtlich stolz auf sein geschaffenes Werk blickt der Junge mit verschmitztem Grinsen geradewegs in die Richtung des Betrachters.
Die mit Buchstaben beschrifteten Seiten der angeordneten Würfel ergeben aus dem Blickwinkel des Betrachters die Frage "Kill Mom?" ("Mama töten?") in tiefschwarzen Buchstaben auf tropfenden, gelben Untergrund. Das 2003 mit Sprühfarbe geschaffene Werk wurde 2018 für die stolze Summe von 591.800€ versteigert und übertraf damit den Schätzpreis von 350.000€ deutlich. 
Kill Mom shows a little boy sitting on the floor playing with several small cubes, which in turn are labelled with a letter on each side. The boy stacks five of these cubes into a tower, while the remaining four cubes lie side by side on the floor in front of him. Visibly proud of his created work, the boy looks straight in the direction of the viewer with a mischievous grin.
From the viewer's perspective, the sides of the arranged cubes, inscribed with letters, result in the question "Kill Mom?" ("Kill Mom?") in jet black letters on a dripping yellow background. The work, created in 2003 with spray paint, was auctioned in 2018 for the proud sum of €591,800, significantly exceeding the estimate of €350,000.