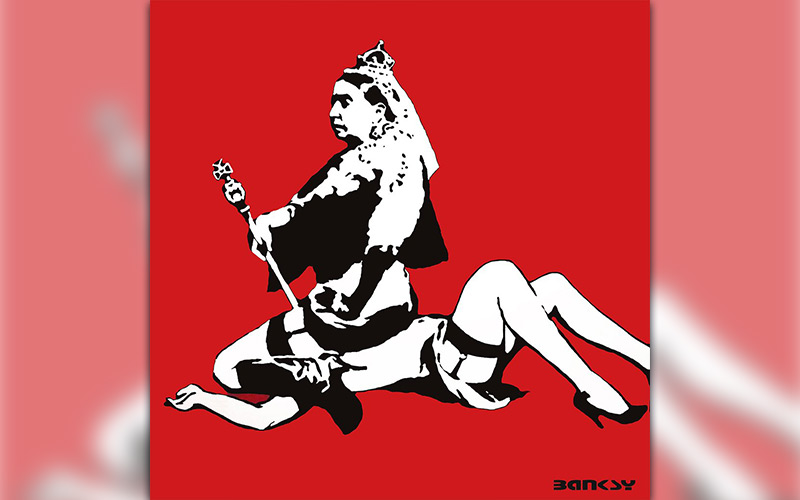 Jahr / Year:
2003

  |  Material:

Paper
Queen Vic ist ein frühes Banksy-Kunstwerk, das 2003 von Pictures On Walls gedruckt wurde. Es wurde im selben Jahr in einer Gruppenausstellung in New York City in der Vanina Holasek Gallery gezeigt. Queen Vic (oder Queen Victoria) wurde als limitierter Siebdruck mit 500 nicht signierten Werken und nur 50 signierten Drucken erstellt.
Der Print zeigt die britische Monarchin Königin Victoria, die auf dem Gesicht einer anderen Frau sitzt. Sie wird in der oberen Hälfte im Profil und in vollem Ornat mit Krone und Zepter illustriert, einer typischen Darstellung von Geistlichen & Herrscher*innen in der traditionellen Malerei. Die Amtstracht geht in einen kurzen Rock und kniehohen Lederstiefel mit Strapsen über, die ihren Oberschenkel freilegen. Ihr unterliegt eine zweite Frau, bewegungsunfähig und mit hochgeschobenem Rock. Die Pose spielt auf "Queening" an, einer sexuellen Praxis, bei der ein/e Partner*in auf oder über dem Gesicht der/s anderen sitzt, um einen Kontakt zwischen Mund, Genitalien oder Anus zuzulassen oder zu erzwingen.
Die Monarchin soll die Meinung vertreten haben, dass Frauen "zu solch einer Sache (lesbischer Liebe) nicht imstande sein" und wird heute verdächtigt, ihre eigene sexuelle Neigung versteckt zu haben. In der Periode ihrer Amtszeit von 1837-1901 wurde Homosexualität bei Männern einerseits noch strafrechtlich verfolgt, und gleichzeitig wurde die gleichgeschlechtliche Liebe in Kunst & Literatur allmählich an die Öffentlichkeit getragen. Wenige Jahre nach ihrem Tod entstand 1897 die erste "Homosexual Rights Group" in England.
Queen Vic is one of Banksy's early artworks printed by Pictures On Walls in 2003. It was shown in a group exhibition in New York City at Vanina Holasek Gallery that same year. Queen Vic (or Queen Victoria) was created as a limited edition screen print with 500 unsigned works and only 50 signed prints.
The print shows the British monarch Queen Victoria sitting on the face of another woman. She is illustrated in profile in the upper half and in full regalia with crown and scepter, a typical depiction of clergy and rulers in traditional painting. The official garb merges into a short skirt and knee-deep leather boots with suspenders that expose her thigh. A second woman lies underneath her, immobilized and with her skirt pushed up. The pose alludes to 'queening', a sexual practice in which one partner sits on or over the face of the other to allow or force contact between mouth, genitals, or anus.
It is said that the monarch believed that women 'are not capable of such a thing (lesbian love)' and is nowadays suspected of hiding her own sexual affinity. In the period of her tenure from 1837-1901, homosexuality in men was still prosecuted on the one hand, and at the same time same-sex love was gradually brought to the public in art and literature. A few years after her death, the first 'Homosexual Rights Group' was formed in England in 1897.
(Quelle:https://en.wikipedia.org/wiki/Queen_Victoria https://en.wikipedia.org/wiki/Timeline_of_LGBT_history_in_the_United_Kingdom https://hexagongallery.com/catalog/artist/banksy/queen-victoria/)