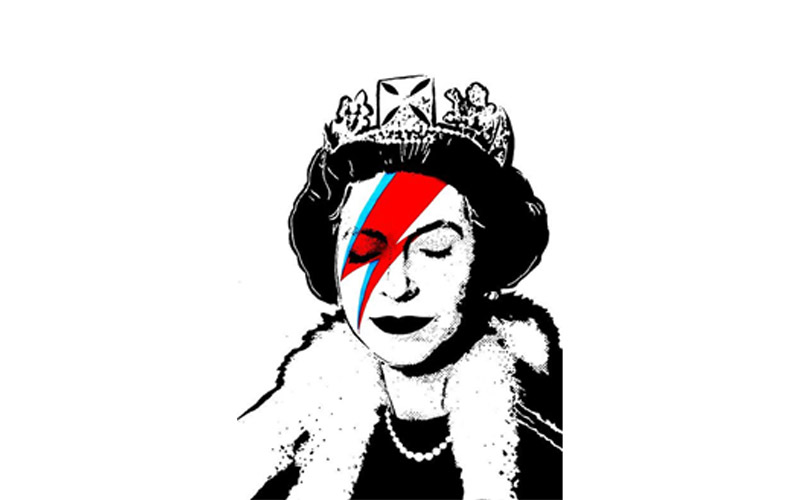 Queen Ziggy entstand 2012 in der Upper Maudlin Street, nähe des Bristol "Children's Hospital", zu Ehren des Diamantenjubiläums von Königin Elizabeth II. von England. Zu sehen ist eine junge Monarchin, die mit Krone, Perlenkette und Pelz gekleidet die Augen niederschlägt und leicht die Mundwinkel nach oben zieht. Im Gesicht trägt sie einen ikonischen Ziggy Stardust-Blitz, der sich durch Rot und Blau deutlich vom schwarz-weißen Stencil abhebt.
Ikonografisch repräsentiert die Darstellung der Königin die Monarchie Großbritanniens und zeigt sie als Oberhaupt des Landes. Das Blitz-Make-Up wurde Anfang der 70er Jahre von David Bowie, einem berühmten Rockstar Englands, für sein Alter-Ego "Ziggy Stardust" entworfen und verkörpert in diesem Werk die Ikonenverehrung. Banksy malte mit Queen Ziggy ein deutlich weniger kontroverses Bild als noch bei Monkey Queen von 2003, als er die Königin als Schimpansin darstellte. Was als "Banksygate" bekannt wurde, weil es der Monarchie und Nationalflagge gegenüber respektlos erschien, wurde bei der goldenen Jubiläumsfeier verboten zu zeigen. Dies warf Fragen bezüglich des Rechts auf freie Meinungsäußerung auf.
Queen Ziggy was created in 2012 in Upper Maudlin Street, near the Bristol Children's Hospital, in honour of Queen Elizabeth II of England's Diamond Jubilee. It shows the young monarch dressed in a crown, pearl necklace and fur, her eyes downcast and the corners of her mouth slightly turned up. On her face she wears an iconic Ziggy Stardust flash of red and blue, which clearly contrasts with the black and white stencil.
Iconographically, the representation of the Queen stands for the monarchy of Great Britain and shows her as the head of the country. The flash make-up was designed in the early 1970s by David Bowie, a famous rock star of England, for his alter-ego 'Ziggy Stardust' by what the iconography in this work is worshiped. Banksy painted a much less controversial image with Queen Ziggy than he did with Monkey Queen from 2003, when he depicted the queen as a chimpanzee. What became known as 'Banksygate' because it appeared disrespectful to the monarchy and the national flag was banned from display at the golden jubilee celebration. This raised questions about the right to freedom of expression.
(Quelle:https://samanthacadorin.wordpress.com/2017/03/21/banksy-the-queen-and-ziggy-stardust/)