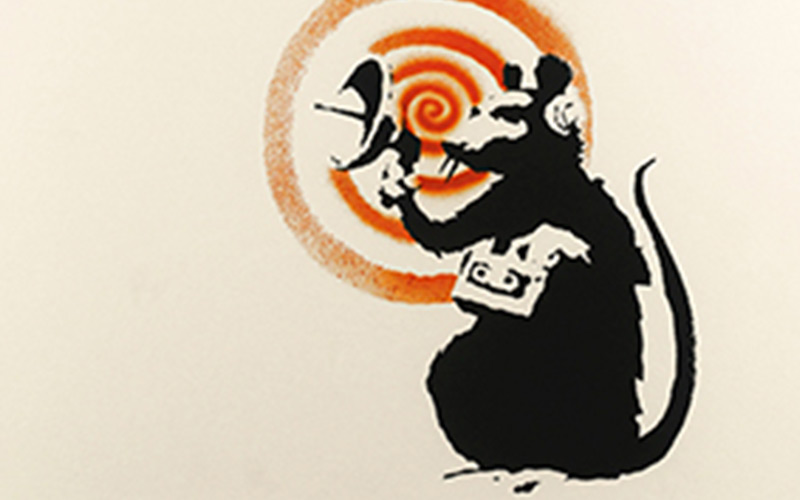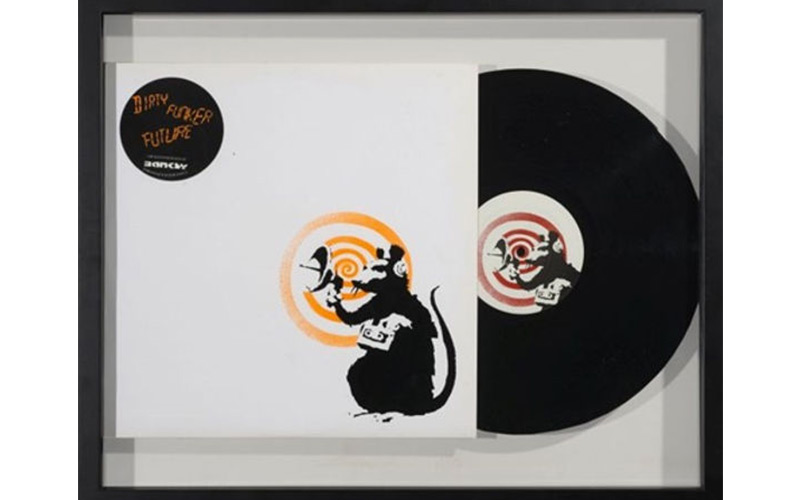 Jahr / Year:
2004

  |  Material:

Cardboard
Radar Rat ist eines der begehrtesten Werke von Banksy, da es nur in einer kleinen Auflage von 75 signierten und vom Künstler selbst handgefertigten Abzügen erschien. Das Werk war ursprünglich unter dem Namen "Sonic Rat" bekannt und wurde erstmals von Banksys Druckverlag Pictures on Walls (POW) im Santa's Ghetto Pop-up Shop des Künstlers veröffentlicht. Als eines von Banksys bekanntesten Schablonen-Graffitis zierte es das Cover des Albums "Future" des DJ-Kollektivs Dirty Funkers aus dem Jahr 2008.
Die Ratte scheint die Welt um sich herum aufmerksam zu belauschen, was eine Anspielung auf die ständig zunehmende Präsenz von Überwachungsgeräten in Städten wie London zu sein scheint.
Radar Rat is one of Banksy's most coveted works, as it only appeared in a small edition of 75 signed prints handmade by the artist himself. The work was originally known as Sonic Rat and was first published by Banksy's print publisher Pictures on Walls (POW) at the artist's Santa's Ghetto pop-up shop. One of Banksy's best-known stencil graffiti, it graced the cover of DJ collective Dirty Funkers' 2008 album Future.
The rat appears to be intently eavesdropping on the world around it, which seems to allude to the ever-increasing presence of surveillance devices in cities like London.