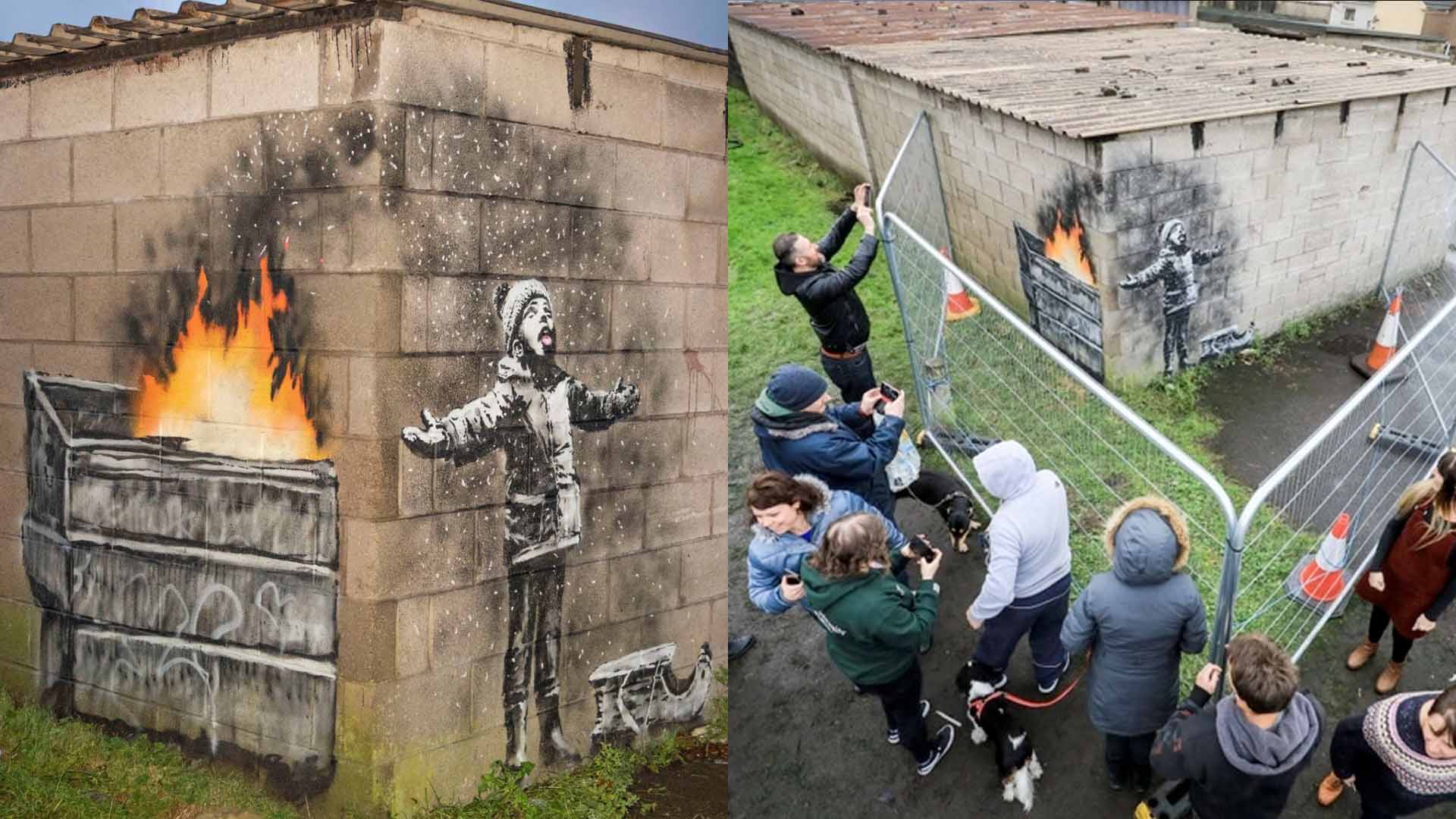 Jahr / Year:
2018

  |  Material:

Wall
Kurz vor Weihnachten tauchten plötzlich Weihnachtsgrüße an einer Garage in Port Talbot auf. Port Talbot ist eine kleine Stadt in Wales, in der sich das größte Stahlwerk des Vereinigten Königreichs befindet. Daher ist es bekannt, dass schwarzer Staub, ein Nebenprodukt des riesigen Werks, weite Teile der Stadt bedeckt. Im Sommer dieses Jahres klagte eine große Zahl von Einwohnern sogar über Atembeschwerden.
Season's Greetings befindet sich an zwei Wänden einer Garage. Auf der rechten Seite spielt ein Kind in Winterkleidung mit dem Schnee und versucht sogar, ihn zu essen. Das Kind scheint glücklich zu sein, wie alle, die einen Nachmittag im Schnee verbringen. Dieser vermeintliche Schnee ist jedoch nichts anderes als Staub und Asche, die von einem brennenden Müllcontainer auf der linken Garagenseite abgesondert werden.
Just before Christmas, Christmas greetings suddenly appeared at a garage in Port Talbot. Port Talbot is a small town in Wales that is home to the largest steelworks in the UK. As a result, black dust, a by-product of the huge plant, is known to cover large parts of the town. This summer, a large number of residents even complained of respiratory problems.
Season's Greetings is on two walls of a garage. On the right, a child in winter clothes plays with the snow and even tries to eat it. The child seems happy, like everyone who spends an afternoon in the snow. However, this supposed snow is nothing more than dust and ash secreted by a burning rubbish container on the left side of the garage.
(Quelle: https://www.sothebys.com/en/buy/auction/2020/evening-sale-london/banksy-mediterranean-sea-view-2017)